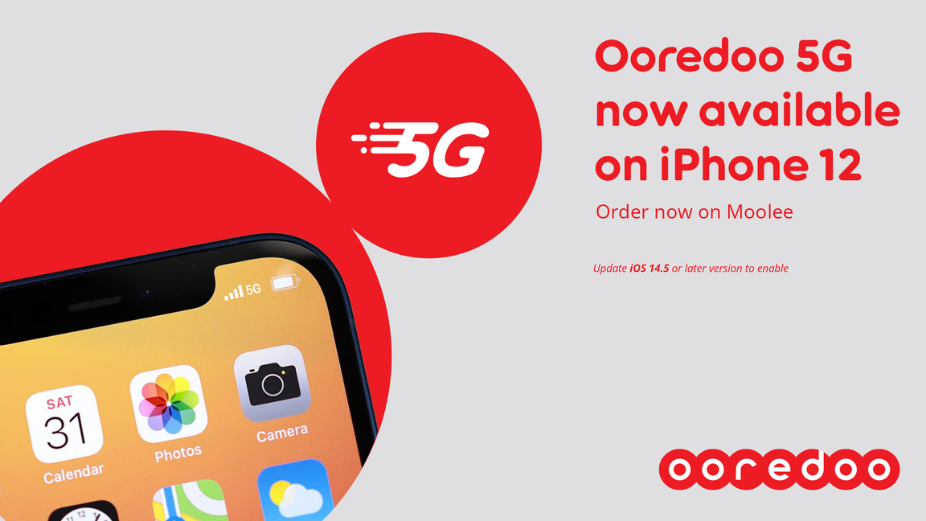 Ooredoo Maldives yesterday announced that Ooredoo 5G has been enabled for all its Postpaid and Prepaid customers using iPhone 12 handsets across Ooredoo 5G enabled locations within Greater Male'.  The company says that customers using iPhone 12 are required to update the software to iOS 14.5 or a later version to enjoy the superfast speeds of Ooredoo 5G network.
Ooredoo Maldives announced the commercial launch of its 5G services in the Maldives in December 2020, covering a large percentage of the capital city of Male', including key business hubs, hospitals, public spaces and more. 5G technology not only promises a fundamental boost in speed, but offers significantly lower latencies, increased capacities and is much more reliable. With the availability of 5G on handsets customers can enjoy uninterrupted gaming on the go and even let you download a whole season of your favourite show in a flash. The 5G-compatible chipset on Samsung devices delivers faster speeds to keep you connected as you upload or download.
With the extension of 5G availability to iPhone 12, Ooredoo Prepaid and Postpaid customers using iPhone 12, Huawei P40 Pro, Samsung Galaxy Note 20, Note 20 Ultra and Samsung Galaxy S21, S21+ & S21 Ultra devices can now enjoy the superfast speeds of Ooredoo 5G.
iPhone 12 handsets along with many latest handsets are available for purchase via Ooredoo ecommerce platform, Moolee on Ooredoo app with free nationwide delivery. The handsets can also be acquired on installment plan via Maldives Islamic Bank.To place your order, visit: http://ore.do/app