Final Preparations are now underway to bring Maldives Transport and Contracting Company's (MTCC) Easy dredge 3700 'Mahaa Jarraafu' to the Maldives within the month of April 2017.
Speaking to the media, MTCC's Chief Executive Officer Mr. Ibrahim Ziyath announced that the dredger is undergoing final evaluations and that he expects the dredger to arrive in Maldives sometime within this month, as soon as the consultants give the go-ahead.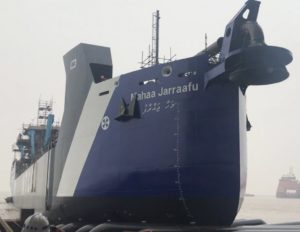 The dredger, which cost approximately USD 36 million (MVR 555 million) was constructed by Netherlands company IHC at Nantong Rainbow Marine Technology Boat Yard in China. This hopper suction vessel will be able to dredge sand from up to 50 meters below, is over 92 meters long and 16 meters wide, and is capable of reclaiming a hectare of land in two days.