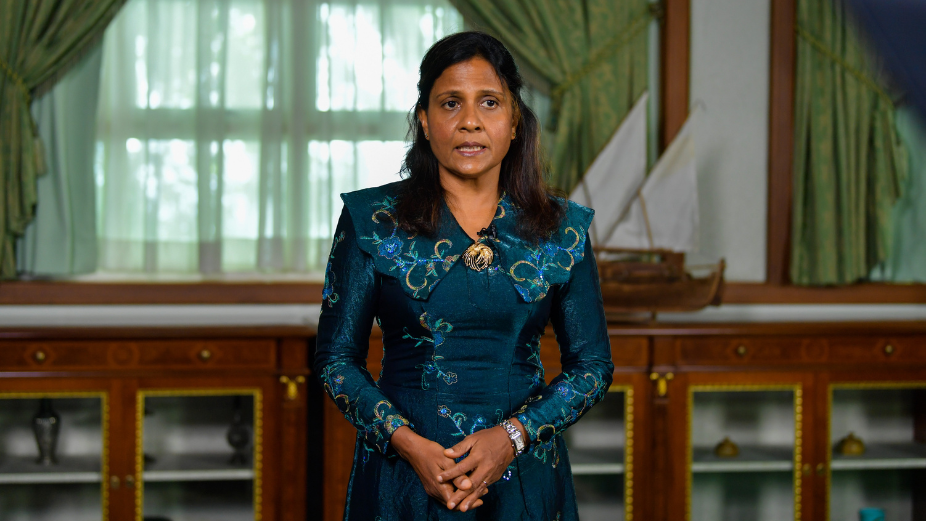 First Lady Fazna Ahmed on Wednesday emphasised the significance of mental health support, citing global events such as conflicts that raise the cost of living and climate change that continue to inflict severe levels of anxiety and depression on many. She made the remarks during her virtual address at the high-level roundtable on "Rethinking Mental Health: A Commonwealth Call to EMPOWER, Care and Transform," held on the sidelines of the Commonwealth Heads of Government Meeting (CHOGM) 2022 in Kigali, Rwanda.
President Ibrahim Mohamed Solih, accompanied by the First Lady, departed Wednesday evening for Kigali to attend the meeting. It is held from June 20-25, 2022. "Rethinking Mental Health: A Commonwealth Call to EMPOWER, Care and Transform" echoes the Commonwealth's principle of promoting access to affordable healthcare and removing wide disparities and unequal living standards.
In her message at the event, the First Lady described the challenges facing the Maldives in providing services and care for mental health patients. Highlighting significant gaps in mental health systems across the globe, the First Lady emphasised the limitations on the availability of mental health professionals, the dispersion of Maldives' islands, limitations in recruitment and long waiting lists.
The First Lady also acknowledged the steps taken to develop mental health services across the country, including adopting the National Mental Health Strategic Plan. It aims to ensure inclusive and effective psychosocial support and expand the national universal health insurance scheme to cover mental health illnesses. The administration also established the Centre for Mental Health at the government-run Indira Gandhi Memorial Hospital (IGMH) in March 2019.
The First Lady also spoke of the importance of strengthening mental health services and removing stigma, stating that it leads to more significant numbers of people seeking help, staying in school, being treated, and learning to continue their careers and lives. She further called for more substantial financial investment in mental health services, inclusive access, research, and ensuring practitioners maintain a strict code of ethics.