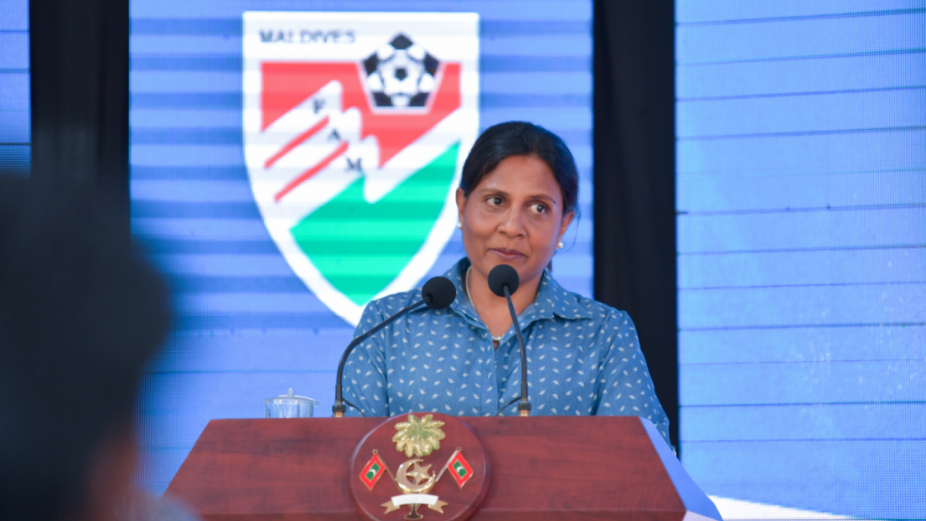 First Lady Fazna Ahmed has yesterday inaugurated the Child Safeguarding Policy for football, by the Football Association of Maldives (FAM) in partnership with Advocating the Rights of Children (ARC), at the special ceremony held yesterday afternoon. In her statement during the inauguration ceremony, the First Lady stated that the launching of this policy is the most joyous milestone for child protection in the Maldives following the ratification of the Child Rights Protection Act and the Juvenile Justice Act.
Speaking further, First Lady Fazna Ahmed reiterated the importance of safeguarding children, acknowledging the role of FAM, ARC and other supporting organisations in having the foresight to implement this policy. She emphasised the participation of children in the creation of the policy, stating that it is crucial for children to be involved while making decisions such as this.
The First Lady addressed the distinction between child safeguarding and child protection. She highlighted that safeguarding young children is a duty to ensure that that they are kept safe from experiencing harmful situations or traumatic events, and further underscored the importance of an effective child safeguarding system within sports. Additionally, First Lady Fazna Ahmed affirmed, through examples, that such a policy shields young children in sports from potential mental, physical or emotional trauma, while at the same time providing guidance for coaches and sports management in best practices and how to seek further help.
Ending her statement, the First Lady called on other sports organisations to follow FAM's lead in creating policies to safeguard young children and to endeavour to gain the trust of children by developing sports as an inclusive environment where children feel safe and empowered. She also urged FAM to ensure that they continue to further strengthen their policy and to be attentive to the day-to-day active implementation of the policy guidelines.
FAM's Child Safeguarding Policy was formulated jointly by FAM and ARC, with the support of the United Nation's Children's Fund (UNICEF) Maldives and relevant state agencies. The policy aims to ensure a safe environment for children involved in football by cultivating a culture of respect and zero-tolerance towards any form of violence, abuse, neglect, harassment or bullying.