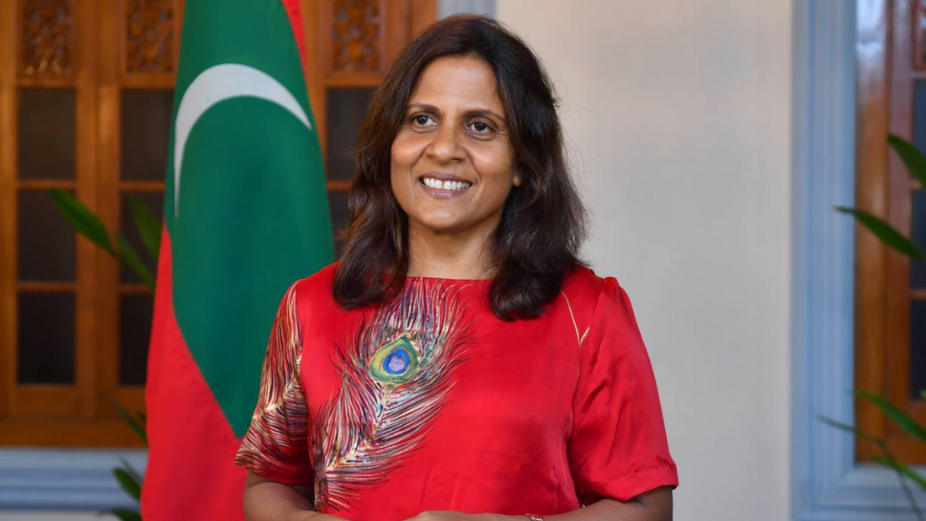 First Lady Fazna Ahmed has urged the public to streamline public messaging strategies towards strengthening family bonds. She made this statement in a video message broadcast on Wednesday evening as part of the season finale episode of the 'Geveshi Gulhun Saasthura' series conducted by the Ministry of Gender, Family & Social Services in association with UNFPA. The programme aims to raise awareness on creating a safer environment for victims of domestic violence.
In her message, First Lady Fazna Ahmed noted that the manner in which some commercials on mainstream media portray household issues may create a negative ambience. In that regard, she spoke on the importance of including hopeful messages in mainstream media commercials to sway public perception towards more positive attitudes, behaviours and beliefs. Referring to the daily busy schedules for most people, she highlighted that making time and undivided attention to the family is particularly important in strengthening family bonds.
The First Lady encouraged all Maldivians to show love and respect towards their parents. She stated that treating parents and elders with compassion would inspire our children to follow the same path, as positive change can only be brought forth by nurturing confidence and optimism.
Speaking on the arrangements made for supporting domestic violence victims, First Lady Fazna Ahmed highlighted that the victim support hotline would provide all the necessary information needed for a comprehensive range of issues. She further noted that a collaborative effort by island councils and NGOs is needed for the mechanism to function more efficiently.