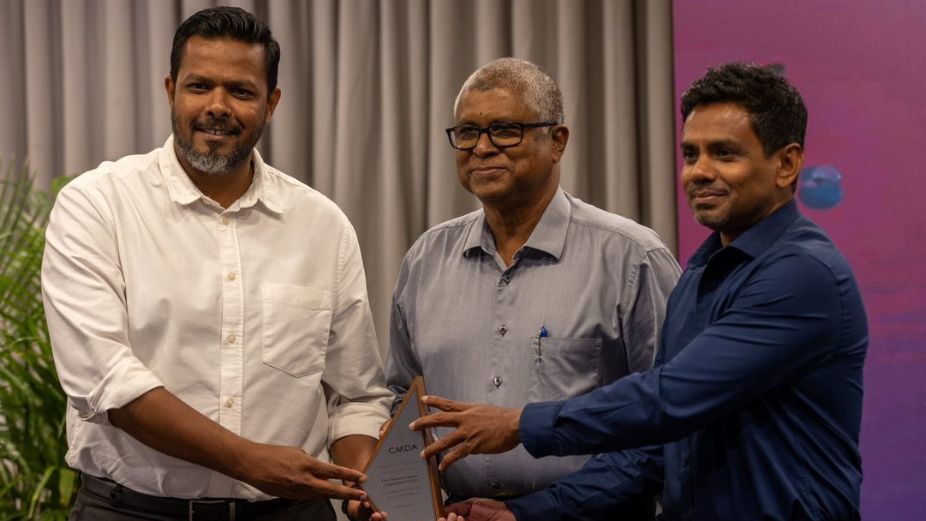 First National Finance Corporation received the award for introducing digital brokerage services for the first time in the history of capital markets of Maldives. The award was presented to First National by the Capital Market Development Authority (CMDA) during an event to celebrate CMDA's 17th anniversary.
The Capital Market Development Authority (CMDA) is an independent institution established under the Maldives Securities Act (2/2006) responsible for regulating and developing the Maldives Capital Market. The authority's aim is to develop capital market, promote fair trading, protect investors and to prevent conduct of activities affecting market confidence.
During the function, CEO of CMDA Mr. Mohamed Hussain Maniku emphasized on the importance of Capital markets for the development of the country and distribution of income across society. The chief guest of the ceremony, Mr. Hussain Niyazy, the Auditor General of Maldives highlighted the importance of good governance and quality corporate reporting to build trust in the capital markets.
On receiving the award, CEO of First National, Mr. Hassan Ziyath commended CMDA and the Maldives Stock Exchange for their efforts to develop capital markets. "We are extremely delighted to have received the award for introducing digital brokerage services which immensely contributed to improving liquidity in the market and providing access to the capital market easily and efficiently. This is indeed a happy occasion for our team at First National and an encouragement to do even better".
First National Finance Corporation is a 'Securities Dealer' and 'Investment Advisor' licensed by the Capital Market Development Authority (CMDA) and aims to integrate the local economy to global financial systems, develop financial products, create effective and efficient technology-driven marketplaces, and develop highly skilled financial professionals.
First National is also the lead advisor in the first private bond offering in the Maldives through Viyana platform. The Viyana platform is a regulated market in the Maldives for the issuing of private debt securities.