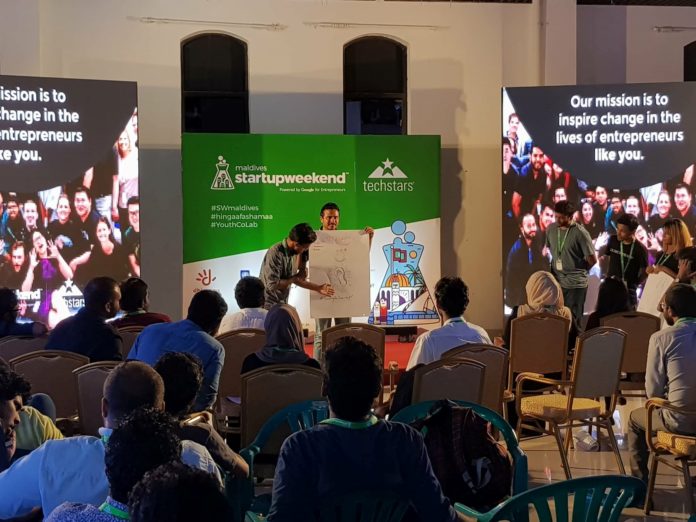 The 1st Techstars Startup Weekend Maldives has commenced on 27th October and will go until 29th October 2017, organized by the Techstars Community Leaders in the Maldives, supported by Dhiraagu, Ministry of Economic Development (Enterprise Development) and UNDP Youth Co:lab. Techstars Startup Weekend is a 54-hour weekend event, during which groups of developers, business managers, startup enthusiasts, marketing gurus, graphic designers and more pitch ideas for new startup companies, form teams around those ideas, and work to develop a working prototype, demo, or presentation by Sunday evening.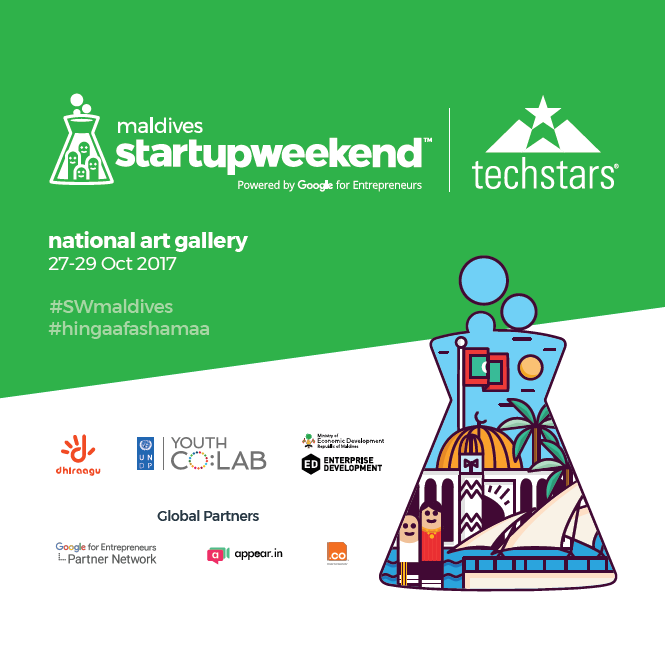 In case you are unfamiliar with Startup Weekend and Techstars – the former is a global network of passionate entrepreneurs and leaders (www.startupweekend.org) aimed towards creating a highly motivating weekend filled with enthusiastic, smart and passionate people assembled under one roof with a single motive, i.e., to assist in creating or funding the next best startup. Startup Weekend hosts entrepreneurs to build startups in more than 1,000 events per year in 150+ countries.
Techstars is a worldwide network that helps entrepreneurs succeed. Through the Techstars Worldwide Entrepreneur Network, founders and their teams connect with other entrepreneurs, experts, mentors, alumni, investors, community leaders and corporate partners who will help their companies grow and allow entrepreneurs to accelerate the pace of innovation and do more faster. Techstars Startup Weekend is where you go to accelerate your idea and Techstars Accelerator is where you go to accelerate your company.
Techstars Startup Weekend Maldives is an action-oriented, highly inspirational and experiential 54-hour program that brought together entrepeneurs, developers and experts from myriad industry sectors to come together to pitch an idea and launch a business, all in one weekend by turning ideas into reality.
The event was graced by Minister of State, Mr. Abdul Latheef of Ministry of Economic Development, Ms. Shoko Noda, UNDP Resident Representative and Mr. Ismail Rasheed, CEO and Managing Director of Dhiraagu.
Anurag Maloo, the Regional Manager for Techstars in South & Central Asia, who has experiences of building startup communities in South Asia and is the lead facilitator said that, "Entrepreneurs are the leading drivers of prosperity, jobs and innovation. Without entrepreneurship, communities would cease to move forward within their local economies and in the world. There are 5 essential ingredients – talent, density, culture, capital and regulatory environment, working together to create an environment for ideas to thrive and foster successful entrepreneurial ecosystems in the Maldives." Anurag believes that Maldives still has a long way to go but definitely it has a lot of potential.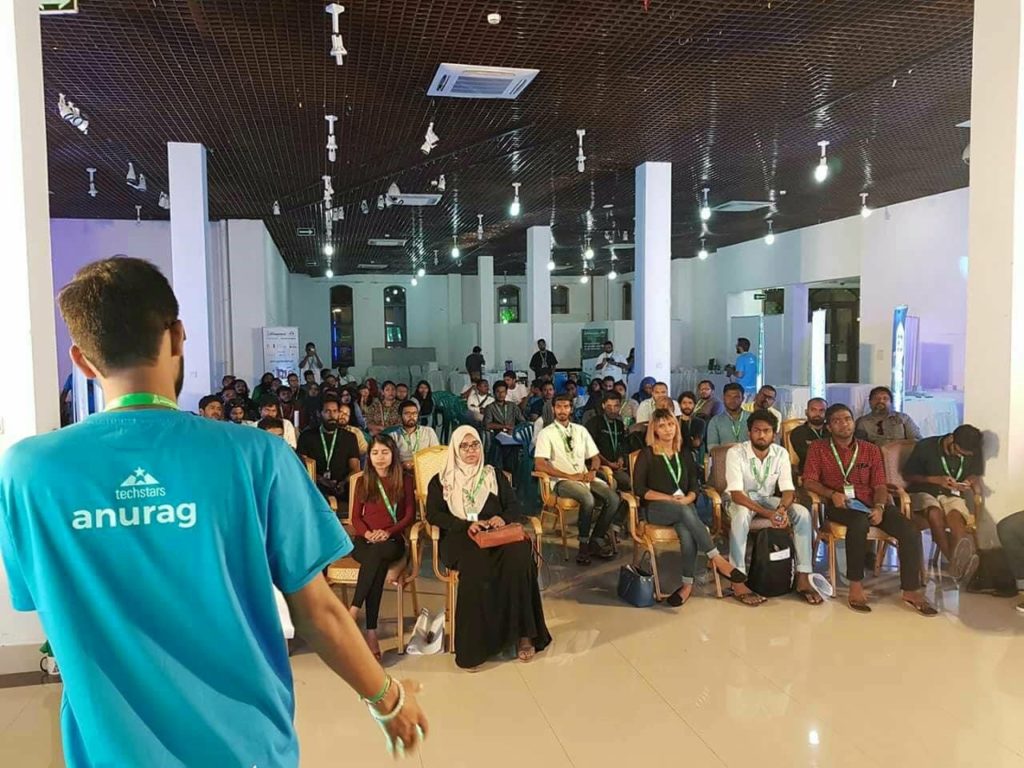 Hussain Jinan, one of the lead organizers of Startup Weekend Maldives told us that, "There were 41 pitches on Friday evening by the participants, and then attendees were asked to vote and choose the best startup idea(s) they would like to work upon the weekend. 11 final startup ideas were shortlisted and teams were formed to strategize and formulate a credible business model around those ideas and present their demos and make pitches to the panel of judges on Sunday evening."
Fareeha Shareef, one of the Finance mentors at Startup Weekend Maldives said, "Gatherings such as Startup Weekend helps young people to think about practical aspects of implementing an idea and form networks that would enable them to tackle some of these issues in entrepreneurship."
It is a 54-hour event that puts aspiring entrepreneurs in direct contact with the sharpest business coaches, mentors, investors and panel of judges from the Industry and let them undertake an entrepreneurial life cycle journey by takings the highs and lows of it with proper guidance and mentorship. This year, the local organizing team has been able to pull together some of the best names in the Maldives as mentors for the participants, who have experienced the entrepreneurial life cycle and could support them in further strengthening the business ideas of the participants and build a strong product at the end of the day.
The Techstars Startup Weekend is the first international initiative to support and nurture the growth of startups in Maldives. Maldives is the newest addition to Techstars Startup Weekend program, powered by Google for Entrepreneurs and it has been successfully run over 160 countries in last 10 years.