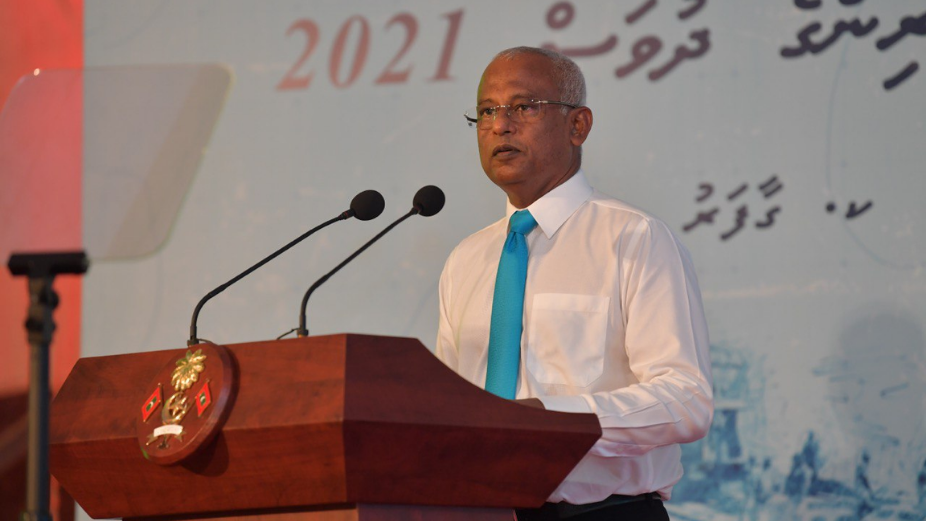 President Ibrahim Mohamed Solih said Thursday evening that fishermen would be able to reap the benefits early next year of the government's efforts to expand the sector, including positive changes to pricing. He made the statement while addressing the official function held in Gaafaru Island of Kaafu Atoll, to mark the 41st National Fishermen's Day.
While lockdowns led by the Covid-19 pandemic disrupted economic activity, the President said that the fisheries sector was one that survived to continue uninterrupted as an economic mainstay. Reaffirming the government's commitment to building a sustainable fishing industry, President Solih outlined some of the positive changes the government has pioneered for fishermen.
On this topic, President Solih assured that the government's foremost priority is ensuring timely payments for fishermen. While Maldives Industrial Fisheries Company Ltd. (MIFCO) owed over MVR 39.5 million to fishermen when his administration took office, the President said the debt was cleared, followed by the implementation of new policies to issue weekly payments to fishermen.
The quality of fish is a significant factor that determines pricing. President Solih said that maintaining quality is one of the areas the government is focusing on improving, which includes establishing a nationwide mechanism to provide ice to fishing vessels. While he inaugurated the newly developed ice plant on Gaafaru Island today, others had been completed on Maduvvari Island of Raa Atoll and Hoarafushi Island of Haa Alifu Atoll.
An additional 50-tonne ice plant was also established in Felivaru, while another 18 ice plants are being developed in 12 atolls. The completion of the projects would see production increase to 15,000 tonnes per month, which the President described as a significant improvement to the sector. The President also spoke about the importance of increasing the production of value-added products.
In addition to the official ceremony held to mark this year's National Fishermen's Day, a number of activities were held today in Gaafaru to mark the occasion. Vice President Faisal Naseem, Cabinet Ministers, and other government officials were present at tonight's official ceremony.