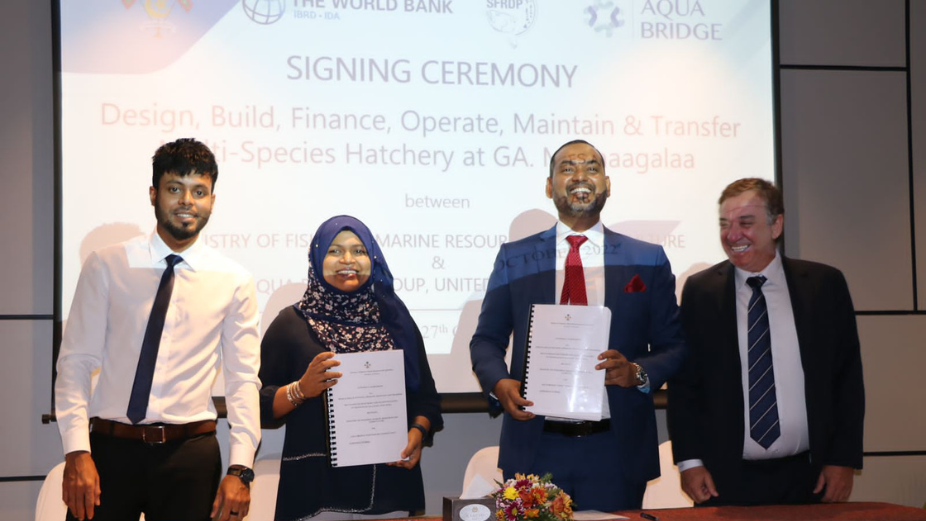 Ministry of Fisheries Marine Resources and Agriculture has signed an agreement with the United Arab Emirates' (UAE) Aqua Bridge Group to build and operate a multi-species hatchery in GA. Maanaagala.
Under the agreement, GA. Maanaagala is given for a period of 21 years to develop and operate the hatchery and this project is valued at USD 16 million.
Agreement was signed on 27 October 2022 where planning executive Eenas Nasir signed from the Ministry, CEO of Aqua Group Mohamed Thabish signed on behalf of the company.
Speaking at the ceremony, Fisheries Minister Dr Hussain Rasheed Hassan highlighted that this hatchery is a wonderful opportunity for mariculture in the Maldives and also has the potential to train locals to mariculture.
First phase of the administrative blocks required for the hatchery operations have already been constructed.
The project falls under World Bank's grant towards improvement of fisheries and agriculture sector; run by the ministry under "Sustainable Fisheries Resource Development Project". Aqua Bridge Group is expected to run the hatchery that will largely focus on production of sea cucumbers, groupers and baitfish.