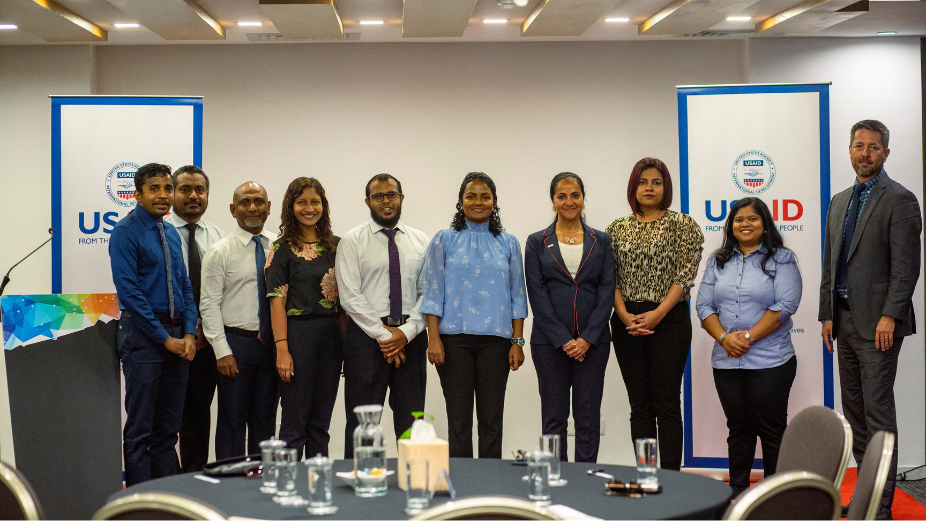 With funding from the United States Agency for International Development (USAID), FJS launched an Enterprise Development Program helping Micro, Small, and Medium Enterprises (MSMEs) in tourism, fisheries, and agriculture sectors to rapidly transform into businesses with innovative and scalable solutions to support a climate-resilient Maldivian economy.
The 9-month program offers mentorship and advisory services with tailored guidance on outreach, onboarding processes, and more to MSMEs that have ideas for climate-relevant products or services to further strengthen, sustain, and grow their businesses.
Speaking at the launch, USAID Deputy Assistant Administrator for Asia Anjali Kaur said, "As a development partner working in Maldives for more than two decades our aim is to help Maldives' economy grow stronger and more prosperous while leading in climate change adaptation." FJS will select MSMEs for this program through a call for applications. High priority will be given to women and youth interested in participating in the program to build their capacity and enhance their role in developing a climate-resilient economy.
"FJS is excited to have this opportunity, made possible by USAID, to work with MSMEs across the country to help them grow and strengthen their businesses," Hamid Sodique, MD, FJS Consulting.
USAID is the U.S. Government's development agency and has been investing in the Maldives since 2001. USAID has invested $28 million in environment, economic growth, and democratic and health-related interventions in Maldives.
Enterprise development and capacity building are among the core areas of expertise of FJS. Over the years, FJS has also developed a strong capacity for environmental considerations in businesses – an area highly relevant to the Maldives. FJS believes in a transformative economy that can withstand the challenges of the impending climate change and that will work for everyone in the Maldives, looks forward to working together with all actors to innovate, grow and transform the Maldivian economy into a stronger and more climate resilient one.