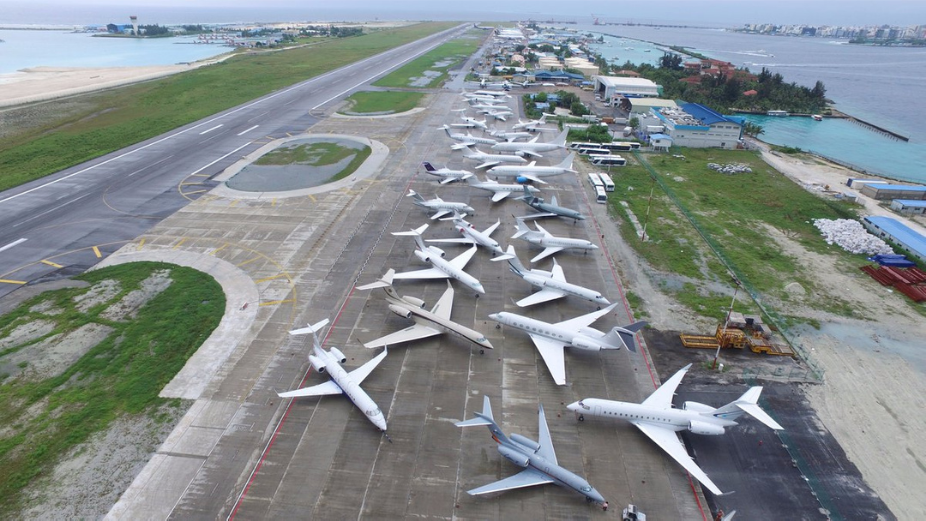 Maldives Airports Company Limited (MACL) has announced that during the upcoming peak tourist season, flights may face delays of up to 45 minutes without being able to land at Velana International Airport (VIA), the main gateway to the Maldives.
According to a circular publicized by MACL this month, as work is still being carried out to expand VIA, congestion and high traffic is expected at the airport. As such, the company has urged airlines to prepare for delays in the landing and taking off at VIA. It advised airlines to put enough fuel in their aircrafts to compensate for delays of up to 45 minutes in the sky.
Furthermore, as there will be high traffic at the aircraft parking zone, MACL has urged airlines to be punctual with their slot timings. Priority will be given to those that land on time according to the schedules.
Due to difficulties caused the expected delays, certain airlines have decided to reduce the number of flights operating to the Maldives. For instance, Edelweiss Air, a Swiss leisure airline operating between Male' and Zurich, has announced that it will be cancelling some flights that were previously planned for the upcoming holiday season.
The main reason for this issue is the fact that the new VIA runway is still unused. The new runway, which was completed in September 2018, is 3,400 meters long and 60 meters wide, catering to even the largest aircrafts. However, the new runway remains unused to this day, as it is located too close to the TMA seaplane terminal. While it has been a year since a new seaplane terminal has been completed, TMA has still not been able to move its operations due to multiple delays.
Ahmed Siyam, the owner of the renowned Sun Siyam Resorts brand, has stated that many airlines have expressed discontent with MACL's announcement. As a result of flight cancellations, flight prices to the Maldives will hike up, and tourist arrivals will see a drop during the most lucrative season of the year. "The most significant consequence will be the loss of consumer confidence due to this," said Siyam.
Currently, a total of 33 airlines operate to the Maldives.