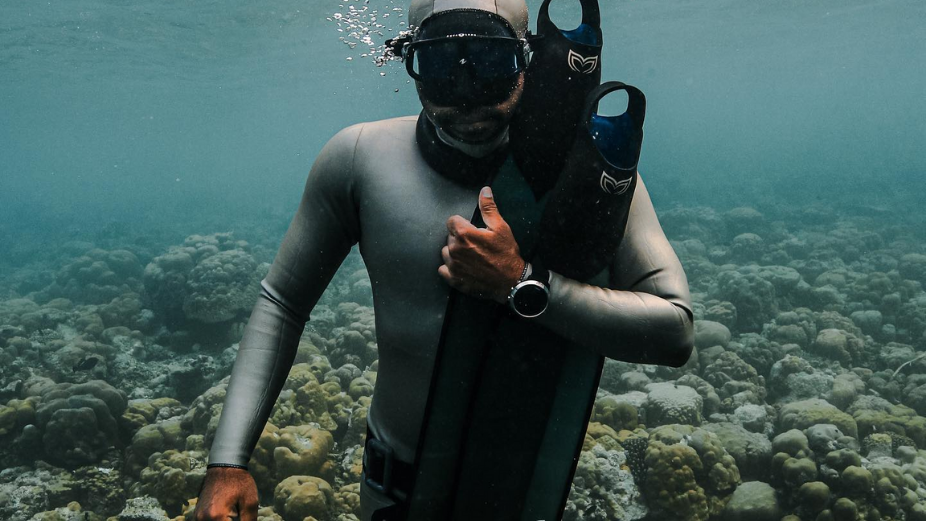 Many freedivers have described the experience "like flying underwater." The Maldives is not only proud to have one national record holder in the field, but two! Hamza Mohamed and Ismail Nasheed are two freediving legends in Maldives.
Just like running, freediving has different disciplines that require different training and methodology. Hamza Mohamed and Ismail Nasheed hold the record in different disciplines of freediving.
Ismail Nasheed, Resort Manager at Joali Maldives, holds the national record for CWTB 55M. This is the record in Constant Weight With Bifins. For Ismail "Isse" Nasheed, this was his first competition dive. " As I started the dive, I can hear my heartbeat. In freediving, that is the last thing you want to hear, but I knew I've to play it cool, charged mouth-fill from 15-22m, kicked a little more, then let the freefall happen; next thing I hear was the 50m alarm, was a super easy dive, all went well and got a white card."
In an interview with restination.mv, Isse shared his words of motivation with future freedivers: "We have so many advantages because the world isn't fair to us. I will not be here; where I am, if it's all fair and square, I was given chances probably over more deserving people. So, don't complain when things don't go your way every time. Also, anyone can quit; an eight-year-old can quit, but those who don't quit win. Growth might be slow, but if you keep on trying, you'll eventually succeed. "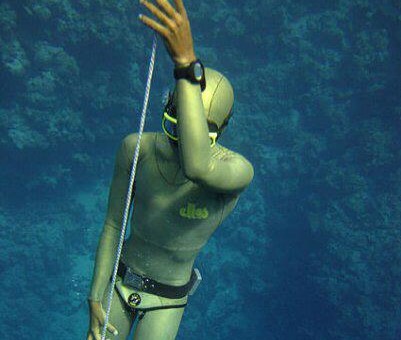 Hamza Mohamed has been freediving since 2004 and currently holds the National Record for the Maldives in constant weight 65 meters / free immersion 60 meters in World Championships in freediving. He made this record 13 years ago in Egypt, Dahab.
Hamza recommends freediving as a hobby, as a lifestyle to be healthy, rather than a career. "I would stress that to do it safely, get training as there are risks involved in the sport of freediving. To build a career in freediving is a bit tricky – it's a fringe sport or how you would call as an extreme sport. To build a career to earn a lot of money, I wouldn't recommend it because there simply aren't enough people doing it."