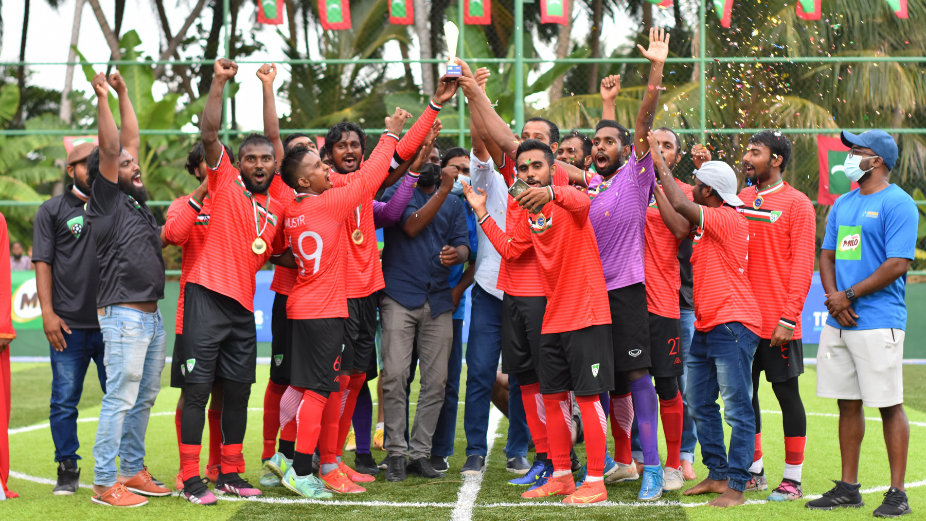 Foakaidhoo has been crowned as the champions of the Tekkers Milo Championship Maldives Cup's Shaviyani Atoll Tournament after they defeated Milandhoo 3-0 at the final. The Man-of-the-match of the final was Foakaidhoo's Hussain Nabeeh (11).
Tekkers Maldives Cup is a tournament that will be played in almost all the atolls of the Maldives. Each winning team from the atolls will play against other atolls ultimately finding the champion of Maldives.
A total of 6 teams participated in the Shaviyani Atoll tournament. Shaviyani atoll was divided into 2 groups. Group A included Foakaidhoo, Narudhoo, and Feevah while Group B included Milandhoo, Funadhoo, and Noomaraa. Foakaidhoo and Milandhoo won their respective groups to advance to the final.
After the final, awards and medals were given to the winning team and individual players as well.
The tournament will move on to the Noonu Atoll next. Six teams have participated in the tournament from Noonu Atoll as well. Group A includes, Kendhikulhudhoo, Maafaru, and Maalhendhoo. Group B includes, Kudafari Lhohi and Manadhoo. The host island from Noonu atoll is Maafaru. Once the Noonu Atoll's champion is decided, Foakaidhoo will be coming to Maafaru to compete against the Noonu atoll's winning team which will decide the block winner.
The champions of the Tekkers Milo Championship Maldives Cup will receive a prize money of MVR 50,000/- while the tournament runner-up will get a prize money of MVR 25,000/-.