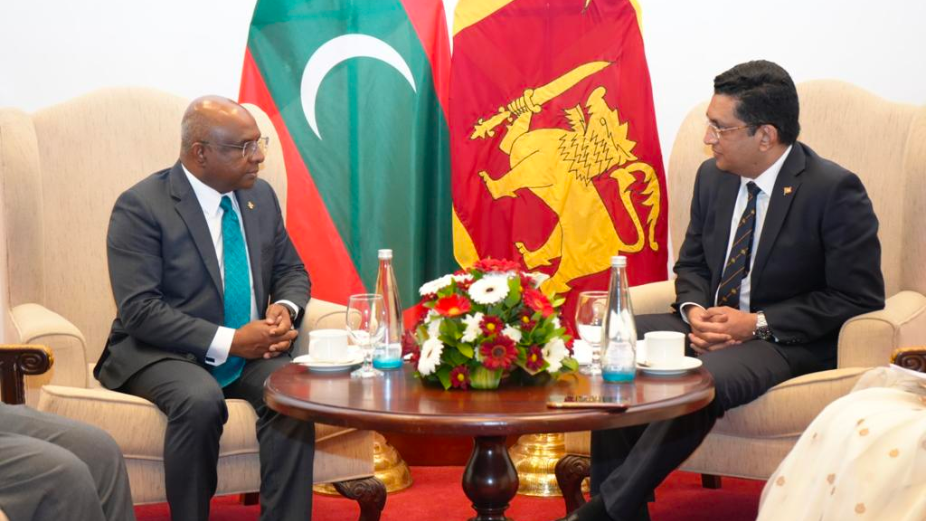 Minister of Foreign Affairs of the Maldives, Abdulla Shahid met with His Excellency M.U.M. Ali Sabry, Minister of Foreign Affairs of the Democratic Socialist Republic of Sri Lanka yesterday.
During the meeting, Minister Shahid and Minister Sabry exchanged views on strengthening existing areas, and exploring new avenues of cooperation, particularly on trade, investment, education and culture. Minister Shahid thanked Minister Sabry for the Sri Lankan Government's willingness to ease the procedure for obtaining visa for Maldivian students under the age of 18 on a reciprocal basis.
Following the meeting, the two Ministers witnessed the signing of the 'Memorandum of Understanding between the Government of the Republic of Maldives and the Government of Sri Lanka on Cooperation on Immigration Matters'. Minister Shahid noted that the agreement signed yesterday is mutually beneficial and assist the two countries in managing border security and enhance people-to-people contact between Maldives and Sri Lanka.
Minister Shahid was accompanied by the Deputy Majority Leader of the Parliament, Honorable MP Hussain Shaheem, Minister of State for Foreign Affairs, His Excellency Mr. Ahmed Khaleel, High Commissioner of the Maldives to the Democratic Socialist Republic of Sri Lanka, His Excellency Ali Faiz, Secretary Bilateral, Her Excellency Dr. Hala Hameed, Controller General of the Maldives Immigration, Mr. Mohamed Ahmed Hussain, Deputy High Commissioner, Ms. Fathimath Ghina, Assistant Director at the Ministry of Foreign Affairs, Ms. Aishath Fareena and Second Secretary, Ms. Aminath Warudha.
Foreign Minister Shahid is on an official visit to Sri Lanka on the invitation of Sri Lankan Foreign Minister Sabry to attend the celebrations of the 75th Anniversary of the Independence of Sri Lanka.