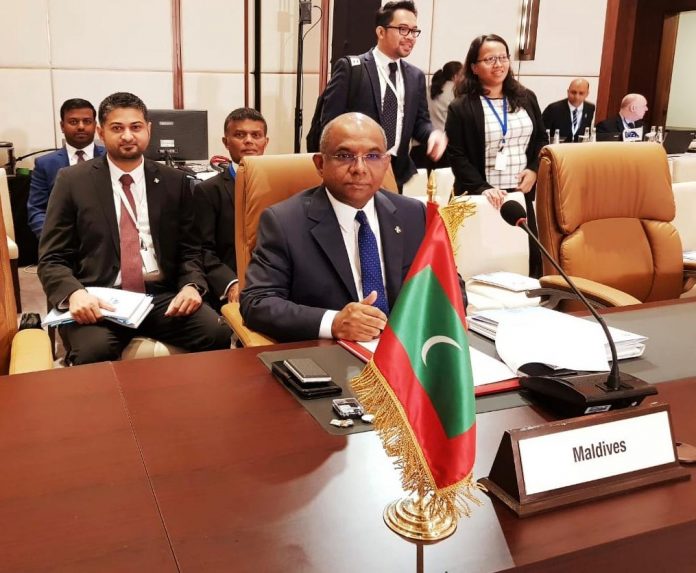 The Minister of Foreign Affairs, His Excellency Abdulla Shahid today delivered a statement at the ongoing 19th Council of Ministers of the Indian Ocean Rim Association (IORA), which is being held in Abu Dhabi, United Arab Emirates.
This is the first time the Maldives is participating in the Council of Ministers of IORA, since its membership to the organization was approved in November 2018.
In his statement, Minister Shahid thanked IORA member states for accepting the Maldives' application to become a member and reaffirmed the commitment of the Maldives to uphold the principles and objectives of the IORA Charter.
Earlier in the day, Minister Shahid signed the Instrument of Acceptance, formalizing the Maldives membership by becoming IORA's 22nd and newest member state.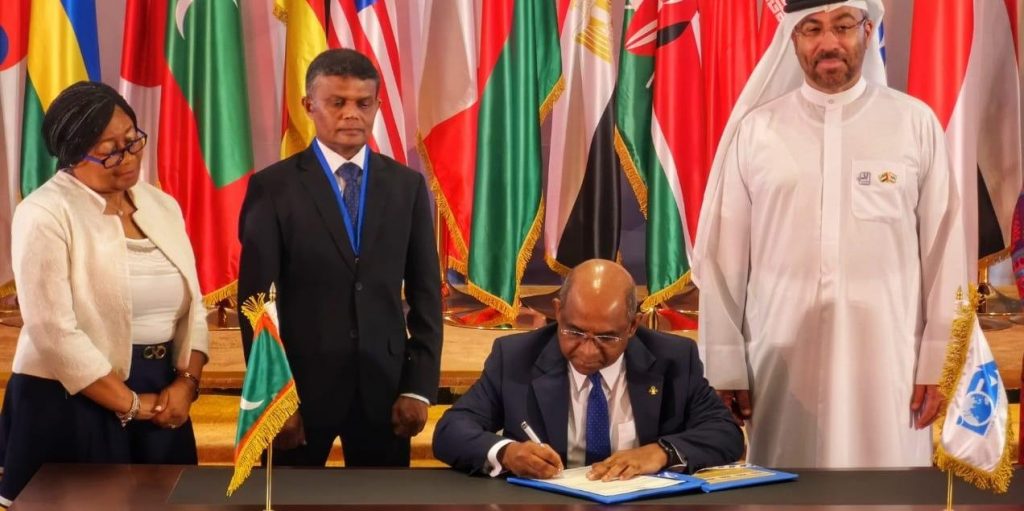 Minister Shahid mentioned that regional cooperation was of strategic importance to the Maldives given its location and close proximity to important maritime trade routes in the Indian Ocean. He said that the Maldives has been historically linked to the littoral states of the Indian Ocean rim, and that it would value the opportunity to foster greater partnerships across the region.
Minister Shahid also alluded to the fact that the priority areas for IORA, which includes maritime safety and security, trade and investment, blue economy, fisheries management, and economic empowerment of women, to name a few, were important priorities for the Maldives domestically as well.
In his statement, the Minister also mentioned that the diversity IORA member states bring to the organization, unique experiences and practices. Despite this, the shared vision and the need to collaborate amongst member states are fundamental to the peace, security and stability of the Indian Ocean region. He emphasized that the underlying factor that should determine the deliberations within IORA should be regional unity and prosperity for the peoples of the Indian Ocean rim states.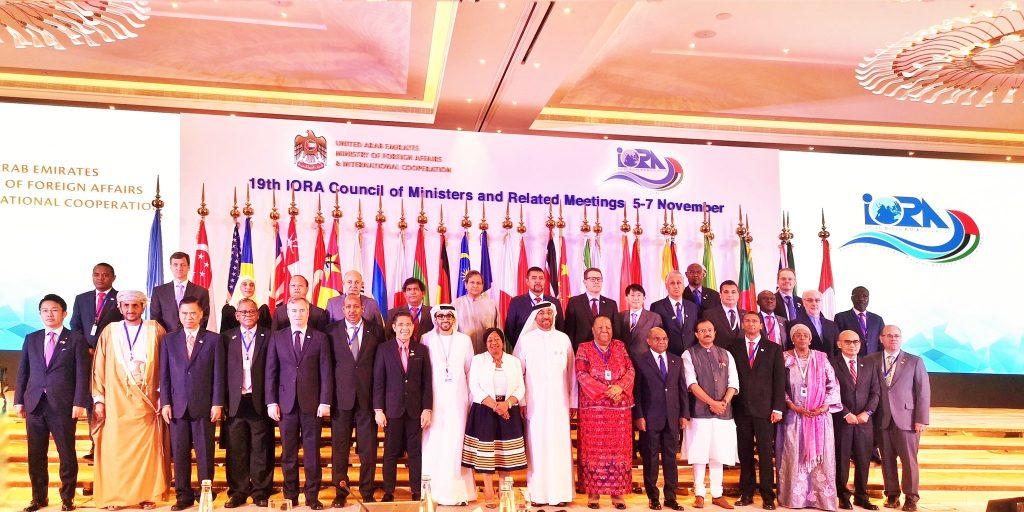 The Maldives is represented by His Excellency Abdulla Shahid, Minister of Foreign Affairs as Head of Delegation. His Excellency Dr Hussain Niyaaz, Ambassador of Maldives to the UAE, Amin Javed Faizal, Additional Secretary at the Ministry of Foreign Affairs, and officials from the Embassy of Maldives to the United Arab Emirates, participated in the meeting.
IORA is an intergovernmental regional organization that was established in 1997 and has its headquarters in Mauritius. It presently comprises of 22 member states, and 9 dialogue partners or observers. The Maldives first applied to become a member state of IORA in 2017 but was only approved during the 18th Council of Ministers in 2018.