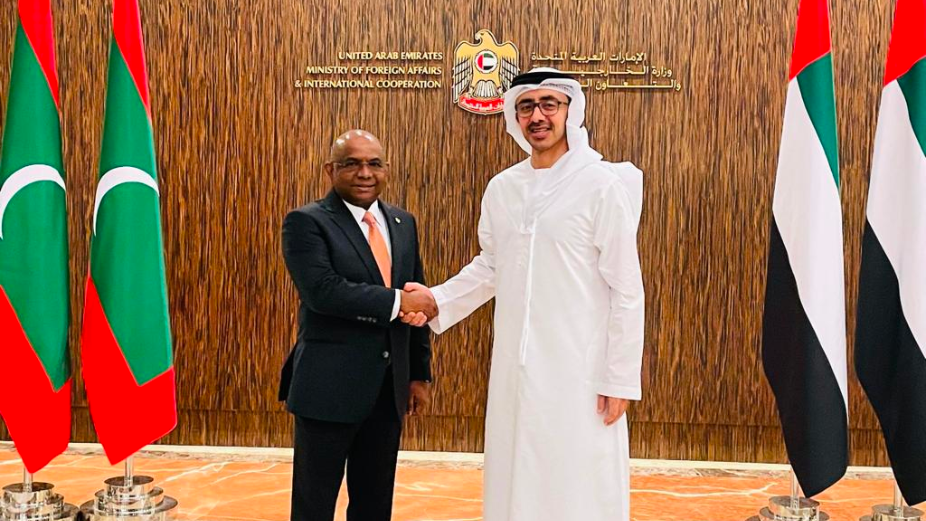 Foreign Minister Abdulla Shahid has met with the Minister of Foreign Affairs of the United Arab Emirates, Sheikh Abdulla bin Zayed Al Nahyan.
At the meeting held at the Ministry of Foreign Affairs of UAE, Minister Shahid handed over a letter from President Solih addressed to Sheikh Mohammed bin Zayed Al Nahyan, President of the United Arab Emirates, and conveyed greetings and well wishes from President Solih to the leadership and the Emirati people.
During the meeting, the Ministers conversed on ways to further strengthen and diversify the long-standing relations between the Maldives and UAE. Minister Shahid reiterated appreciation for the generous support and assistance provided to the Maldives through the Abu Dhabi Fund for Development, and expressed gratitude on behalf of the government and people of the Maldives for the invaluable contributions made by UAE towards the socio-economic development of the Maldives, over the years.
The two Foreign Ministers expressed their renewed commitment to working together on issues of mutual interest, both bilaterally and in the international fora.
Foreign Minister Shahid was accompanied at the meeting by the Ambassador of the Maldives to the UAE, Aminath Shabeena, Assistant Director at the Ministry of Foreign Affairs, Ahmed Salman Zaki, and Second Secretary of the Embassy of the Maldives in the UAE, Fathimath Urooj Nizar.