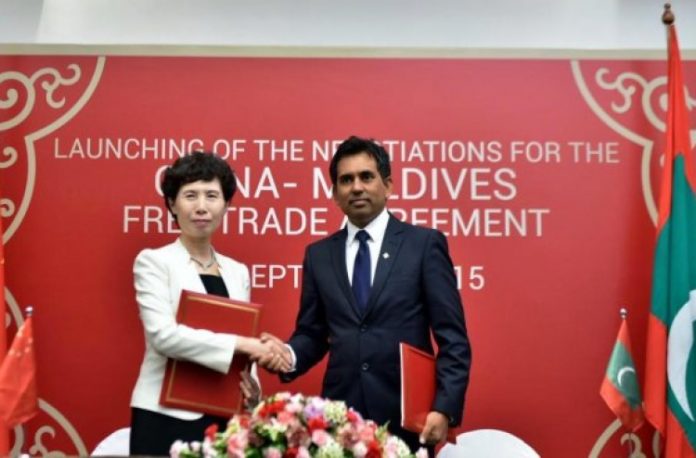 Free Trade agreement with china is in the last stage of discussions according to the government.
Speaking to journalists, Economic Minister, Mr. Mohamed Saeed stated that it has been over a year since the negotiations had started. During this period the government has spoken to over 2000 private companies in china regarding the free trade agreement and this is the largest discussion of its kind that the country has taken part in.
In the ceremony held to sign off with BML for the SME loans, the minister advised businesses to keep a track on the progress and growth of each individual business due to such agreements done by the government with other countries.
Due to the free trade agreement, it would be easier for Maldivian businesses to market and export products to China, especially canned fish and other fish products without the worry of any duties.
The two countries have sat down for free trade agreements on three different occasions and the necessary research would be done to see the benefits of such a deal for both countries by the Chinese government this year.
When the agreement is reached and signed off, this would be the first time that the Maldives would have a free trade agreement and understand with another country. Maldives has signed the South Asian Free Trade act SAFTA, a convention all SAARC countries have taken part in.
The Maldivian government has been strengthening its bond with the Chinese government in the recent years. This is reflected in the the increase in the number of Chinese tourists that come to the Maldives, the aid given for development projects of the country by China as well. Along with China, Hong Kong has shown interest in negotiating a free trade deal with the Maldives as well.