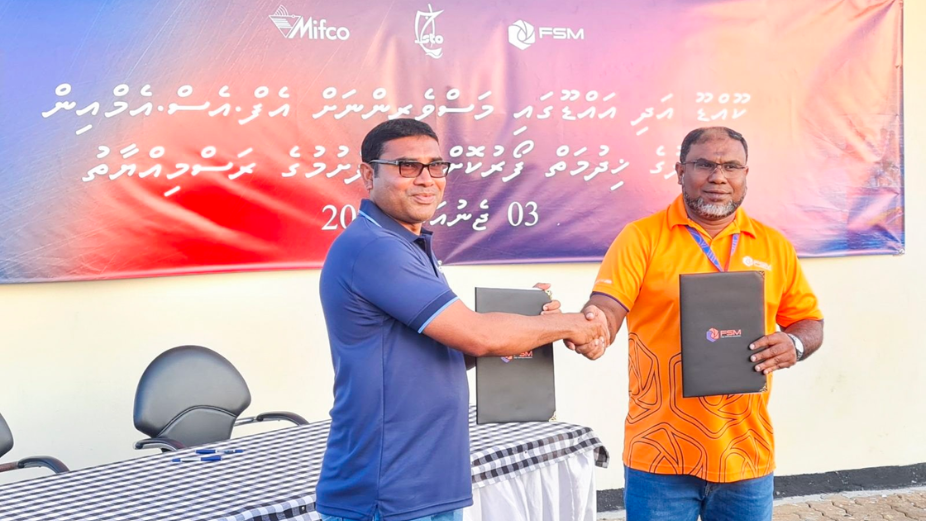 Fuel Supplies Maldives (FSM) and Maldives Industrial Fisheries Company (MIFCO) have signed an agreement to sell fuel to fishermen at MIFCO's sites.
The contract was signed on behalf of MIFCO by CEO Ismail Fauzy, and on behalf of FSM by Managing Director Mohamed Gasam. FSM began fuel sales at Kooddoo and Addu Fisheries Complexes yesterday, while the service is scheduled to start at Felivaru Fisheries Complex on February 3, 2023.
According to MIFCO, the aim of this is to guarantee that fishermen will always be able to obtain fuel from its locations without any problems. In order to overcome the challenges MIFCO vessels face in selling fuel to the fisherman owing to a lack of storage, FSM is currently working to set up an easy way to obtain oil instead of selling it through ships. Efforts are underway to make arrangements before the end of the first quarter of the year.
In accordance with the agreement, all fishing vessels will enter into a credit agreement with FSM and receive fuel on credit in line with the established rules. During the credit period, fuel payments will be made directly to FSM rather than being subtracted from the fish purchase bill. As a result, fuel will continue to be available to fishermen at a discounted rate.
In November of last year, FSM began selling fuel to fishermen from the Hulhumale' Fishermen Jetty at the same price that MIFCO does. Only registered fishing vessels would be eligible for the reduced rate, according to FSM.