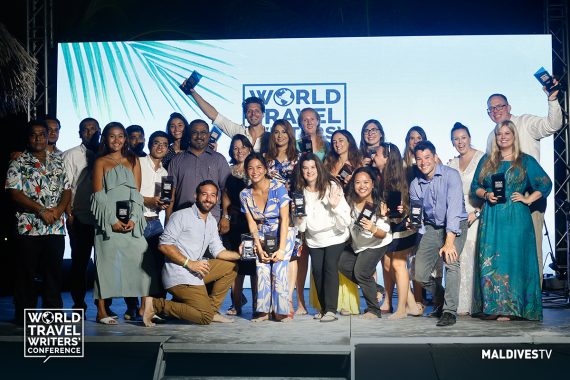 The Gala ceremony of World Travel Writers Conference 2017 was held at Adaaran Hudhuranfushi on the 18th of September 2017. At the Gala Managing Director of PSM Ibrahim Khaleel launched the World Travel Writers Conference 2018 which will be held in April next year.
The gala night of WTWC 2017 was held to bring together the participants, including writers, photographers, bloggers, as well as partners and sponsors of the conference.
The night began with some participants of the conference going up on stage and speaking about their experience during the WTWC 2017. Stuart Forster, Gina Samarotto and Elizabeth Carlson spoke about their respective field of experience and how it could be used to promote a destination.
During the gala night, awards of recognition were conferred by PSM to everyone who supported in making the first ever World Travel Writers Conference by Maldives TV a success. In this regard, Chairman of PSM, Ibrahim Umar Manik Awarded participants of World Travel Writers Conference 2017 for their help in making the conference a success.
Managing Director of PSM, Ibrahim Khaleel gave away awards for writers of WTWC 2017. The award is given to appreciate the writers who joined the first ever travel writers conference organized by Maldives TV. This included Elizabeth Carlson, Claudia Tavani, Trisha Velarmino, Tom Grond, Janet Newenham, Cacinda Maloney, JJ Yosh, Patrice Averilla and Kritstie Murray.
Vice Chairman of PSM, Ibrahim Hilmy also gave away appreciation awards to sponsors while board members gave away awards to local tourism stakeholder partners.
Prior to concluding the night, Managing Director Ibrahim Khaleel launched World Travel Writers Conference 2018. Speaking after WTWC 2018 was launched, Director of Marketing and E-commerce Ibrahim Nasreen said the World Travel Writers Conference 2018 will be bigger and better. Nareen noted that the next conference will go beyond Maldives and expand the event. He said the next edition will be bigger and better with more sponsors, more participants.