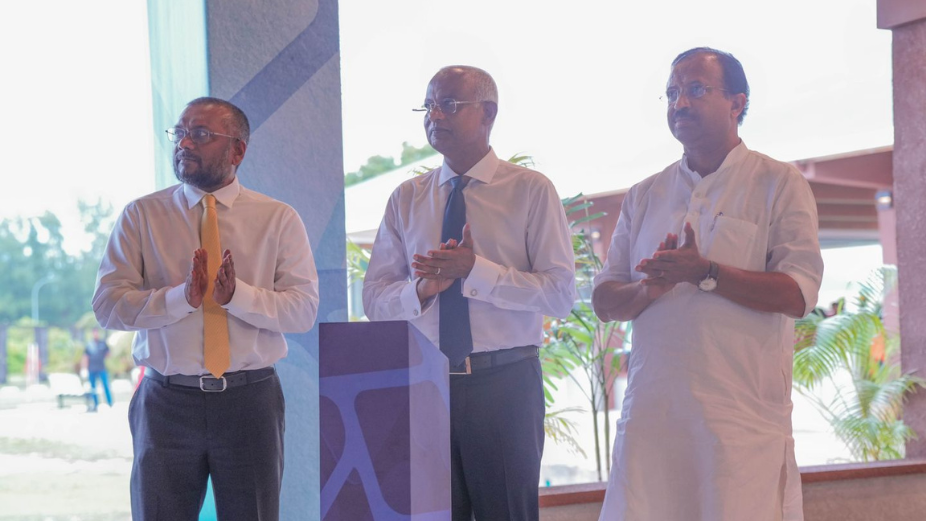 President Ibrahim Mohamed Solih inaugurated the physical work of the Gan International Airport, marking a significant milestone in the development of Addu City. The inauguration ceremony took place during President Solih's official visit to the southernmost region.
The ceremony witnessed the presence of a distinguished delegation of government officials accompanying the president, including Minister of Economic Development Fayyaz Ismail, and India's Minister of State for External Affairs V. Muraleedharan.
President Solih, in his presidential address earlier this year, unveiled ambitious plans to enhance Gan International Airport, aiming to accommodate 1.5 million tourists annually. The project is being implemented with the support of a line of credit from the Exim Bank of India.
Once completed, the airport will be equipped with state-of-the-art facilities, including duty-free shops, restaurants, and lounge amenities. The project encompasses the construction of a passenger terminal capable of serving 1.5 million passengers annually, as well as the establishment of cold storage and cargo facilities, a control tower, a fire station, a parking zone, and road infrastructure.
The Ministry of Economic Development views this project as a catalyst for significant socioeconomic growth in the southern region and an opportunity for Addu City to play a vital role in the overall development of the Maldives.
While Gan Airport undergoes development, the government is simultaneously working to increase the tourism bed capacity in Addu City. In March, an agreement was signed with a contractor to develop Hankede as a comprehensive tourism project, boasting a remarkable 2,082-bed capacity. Furthermore, land reclamation projects are currently underway in Addu City, with the acquisition of five islands earmarked for tourism purposes. Arrangements are being made to provide necessary loans to those who have been allocated land in Addu City for guest house development. Several other initiatives are also being undertaken to bolster the tourism sector.
The completion of the Gan International Airport development will facilitate direct flights from around the world to both ends of the country, creating opportunities for the establishment of additional resorts, city hotels, and guesthouses in these regions. Furthermore, it will foster the growth of businesses and various industries in the area, leading to the creation of numerous direct and indirect job opportunities. Upon the project's scheduled completion in March 2025, Gan International Airport will serve as a vital link, connecting the southern atolls with the rest of the world.