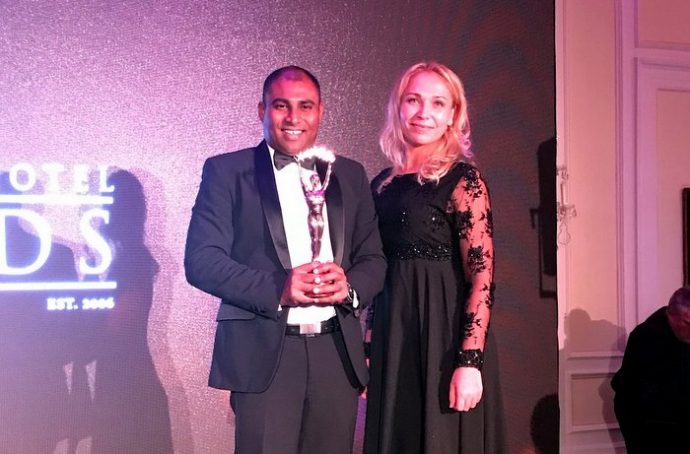 GM of Villa Hotels Group, Mr Qaisar Naseem has been named as the Best General Manager of the world. He was awarded this prestigious title at the 2017 World Luxury Hotel Awards gala held on 2nd December at the Klum Hotel St Moritz in Switzerland.
The award was received by Mr Qaisar, as the General Manager of Paradise Island resorts, a position which he held until recently being appointed Group General Manager of Villa Hotels and Resorts. Along with paradise Island Resort, the group runs Royal Island Resort and Spa, Holiday Island Resort and Spa, Sun Island Resort and Spa, and Fun Island Resort and Spa. Last year, Mr Qaisar had also won Best General Manager Award in Indian Ocean Category.
In addition to Mr Qaisar's award, Paradise Island Resort secured the global award for the best Luxury Water Villa Resort and a continental award for the best Luxury Beach Resort.
Hailing from Fuvahmulah, the one Island Atoll in the Southern part of Maldives, Mr Qaisar started his career at a young age. In 1997 he joined the industry as a receptionist at Thudhufushi Resort. After a year at Thudhufushi, he joined Villa Hotel as the administrator of Royal Island Resort and Spa which was under development at the time. His supervision of the development project earned him the position of Assistant General Manager when the resort was opened in 2001.
In 2006 Mr Qaisar went to pursue a degree in Malaysia and was appointed the Resident Manager of Paradise Island Resort upon his return in 2009. A year later he went on to become the General Manager of the resort, a position he held until his recent promotion.
During his tenure at Paradise Island Resort, he has led the resort to several awards and global recognition. Upon receiving the award, he said that such an award is an honour and that it is not only his personal achievement, it is an achievement for the people of the Maldives and the country.
Paradise Island Resort is located on the island of Lankanfinolhu in North Male. This little piece of tropical paradise is just 15 minutes speedboat ride away from Velana International Airport. The resort boasts Haven Villas and Haven Suites overlooking the ocean, beach bungalows set in the lush greenery, five magnificent dining choices and an Araamu Spa.
An array of activities including diving and water sports is also offered on the island. The friendly service providers on the island complete the dreamy holiday experience for travellers.
Established in 2006, World Luxury Hotel Awards is the pinnacle of achievement in the luxury hotel industry offering international recognition as voted by guests, travellers and industry players alike. Over 300 000 international travellers vote each year, during a four-week period to select the winners. Luxury hotels have the opportunity to participate in the World Luxury Hotel Awards by entering hotel categories that showcase their unique selling points and destinations.