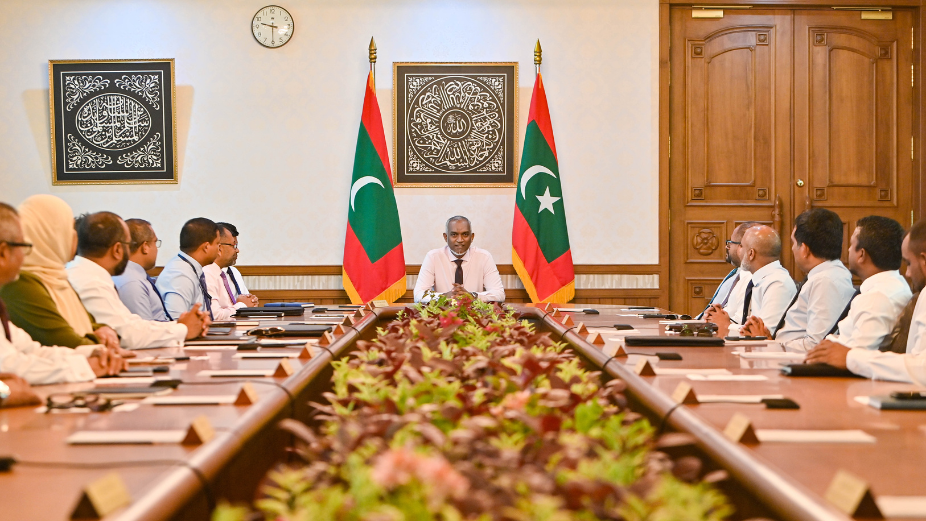 The President has announced the creation of a special council within the Cabinet focused on promoting tourism. President Dr. Mohamed Muizzu will lead this council, consisting of 22 members from the Council of Ministers. This decision was reached during the inaugural cabinet meeting of the new government on Monday.
The Minister's Council convened its initial meeting to discuss tasks related to the commencement of the government's operations, focusing on the initiatives outlined in the new government's 'Week 14' roadmap.
During the meeting, the Cabinet established three councils: the Social Council, the Economic Council, and a new addition, the Visitor Economy Council.
The Visitor Economy Council aims to strengthen the tourism sector's functioning and was formed under the decision of Mohamed Muizzu. Under Secretary for Public Policy at the President's Office, Mohamed Firzul, announced at the first press conference that President Dr Mohamed Muizzu would directly chair the Visitor Economy Council.
Firzul stated that the council aims to promote tourism by introducing new approaches. "The primary focus will be on the revitalisation of the tourism sector," he said. Firzul highlighted the historical emphasis on leisure and holiday destinations in Maldives tourism and the president's vision to expand its scope to areas like health, education, and transportation tourism.
In conjunction with the dissolution of the Tourism Council, the Social Council and the Economic Council have also been disbanded. Vice President Hussain Mohamed Latheef will now oversee the Social Council, while the Economic Council will be led by Minister for Economic Development and Trade Mohamed Saeed.