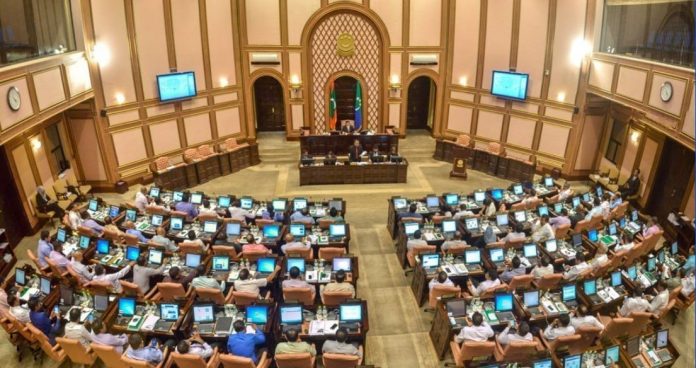 The government has expressed its opposition towards the amendment to Immigration bills which stands for granting residence visas for foreigners making an investment above MVR 100,000, renting or leasing a residence for more than 10 years, or marrying a Maldivian, in the parliament. According to the Committee Chair, the amendments have been proposed by the Speaker Mohamed Nasheed, chair. However, Speaker Nasheed has also refuted that he was behind the amendment.
At a meeting held of the Parliamentary Committee on National Security and Foreign Relations, on the 20th of July 2020, Economic Minister Fayyaz Ismail, stated that the amendment was not something that has been wished by the government. He said that at the moment, granting residence visas in return for an investment of MVR 100,000 is not essential.
The Minister also highlighted the relationship between resident visa and citizenship and said that a resident visa makes the entry and exit from the country easier. The government does not wish to grant visas to individuals renting residences, however, the government was considering granting a second home residency visa to long term leases for resort villas, for investment more than USD 300,000.
After the proposed amendments to the immigration laws were forwarded by the Parliamentary Committee to the entire legislature, Speaker Nasheed requested the Committee to reconsider the bill alongside an amendment from the Speaker before sending the amendments back to the Committee again along with the proposed amendments regarding the residence visa mentioned above.
The amendment had gained criticism from members of the public who oppose such a move. Some MPs of MDP have spoken out about it expressing their concerns.
"I have not presented any amendment to any Committee. I think it was the Committee chair that provided that information. However, I am saying very clearly to the honorable parliamentarians, that there is no amendment from me, even if you check with the administrative desk." Said Nasheed who also noted that the regulations did not permit him to propose any such amendment.
An emergency issue submitted regarding the "hidden prospects" of the residence visa included in the amendments proposed to the immigration laws was also dismissed from the parliament today.