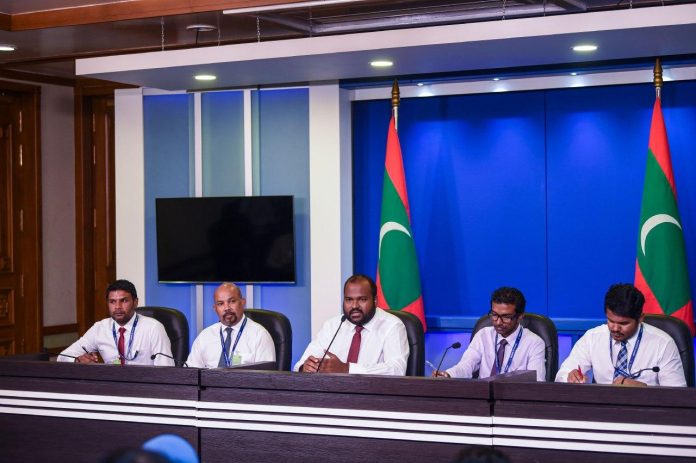 The Government of Maldives has reassured the public on the efficiency and timely manner of measures being taken in response to the COVID-19 global emergency reaching the Maldives. The statement was made at a press conference held by the Ministry of Tourism at the President's Office today.
Speaking at the press conference, Tourism Minister Ali Waheed highlighted preparations undertaken previously by the Ministry for a possible scenario where positive cases of COVID-19 were to be discovered in the country. Further, Minister Ali Waheed provided journalists with specific details, including statistics of medical supplies that have been stocked well in advance and information about the isolation facility established in Vilivaru island, which had not been previously disclosed to the media.
Tourism Minister Ali Waheed assured that the Government, along with all stakeholder agencies including the Ministry of Tourism, will assist all tourism industry establishments to cope with the repercussions arising from COVID-19. Minister Ali Waheed added that decisions, including the temporary restrictive measures being taken for some islands, will not affect the availability of essential supplies. He also added that all arrangements are being taken with special attention to the safety and security of the people.
The Minister further announced that the government is considering the use of some inoperational resorts as possible alternative isolation facility locations that can be utilized with minimal restoration. Minister Ali Waheed also shared the Government's vision to continue economic development alongside all preventive measures being taken to combat the epidemic. He stressed that the Maldives cannot isolate itself from the rest of the world and maintain its economy at the same time. The Minister also disclosed that the inbound flights scheduled from Italy to the Maldives will not be carrying passengers into the country and are coming as part of arrangements made to fly Italian holidaymakers back to their country.
Minister Ali Waheed advised anyone present with symptoms of COVID-19 to promptly inform authorities and urged all tourism establishments to continue to share all updates of COVID-19 with stakeholder agencies in a timely manner.