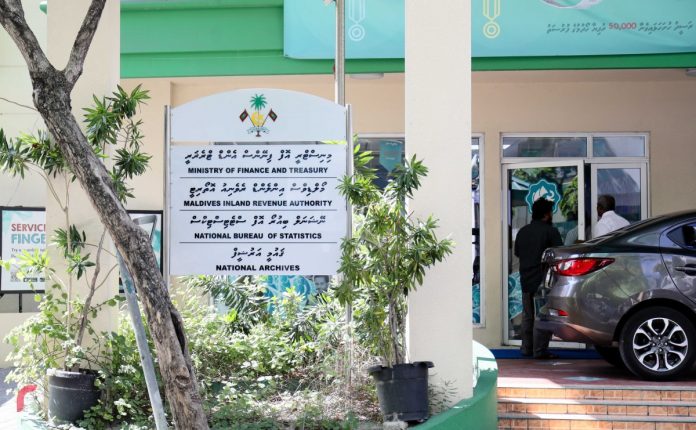 Maldives Inland Revenue Authority (MIRA) stated that the government revenue for the first quarter (Q1) of 2020 has decreased by 11.5%.
Statistics of government revenue published by MIRA for the months of January-March record an income of MVR4.35 Billion. This is an 11.5% decrease compared to the amount generated in the first quarter of 2019.
When compared to the statistics of last year, income generated from resort rent, GST, fees of construction period extension, royalty and withholding tax, and resident permit payments have decreased. The income generated during this period has increased on, BPT, corporate social responsibility fees, airport development fees, and airport service charges.
In the first quarter of 2020, MVR 3.65 billion have been generated from taxes. This is a 6.3% decrease when compared to the tax generated in the first quarter of 2019. MVR 700 million have been generated during Q1 from other fees which shows a 31.1% decrease when compared to this amount in Q1 of 2019.
MVR 2 Billion has been generated this year from GST while MVR 2.3 Billion has been generated last year. BPT has generated an income of MVR 1.13 Billion. However, this amount was at MVR. 1.3 Billion this year.
Green tax has generated MVR 236 million this year while it generated MVR 241 million last year. The income from the airport development fee was at MVR 196 million while this year, the amount is at MVR 200.
As airport development service charge, MVR 199.3 million was generated this year, while MVR 195 million was recorded the previous year. As for other fees, MVR 511 million was recorded this year while this amount is at MVR 864 million last year.
In the first quarter, 60% of the income paid to MIRA was in USD while 39.9% was in MVR. During Q1 income accepted in USD has reduced by 12.1%. USD 170 million has been accepted as cash in Q1 by MIRA.