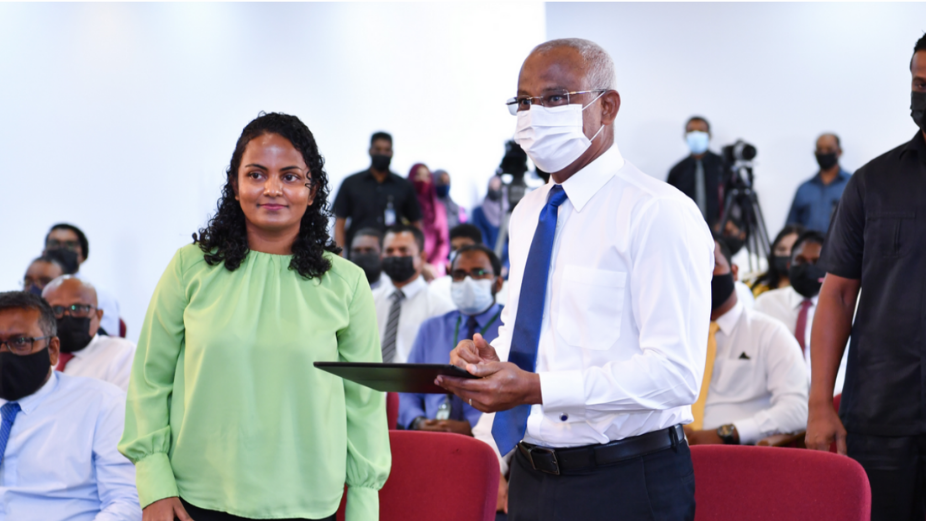 "Establishing a digital identity will exponentially increase access to government services and help speed up service delivery", President Ibrahim Mohamed Solih stated yesterday, at the launching ceremony of the "gov.mv message" service by the Ministry of the Environment, Climate Change and Technology.
The gov.mv messaging service enables anyone to send formal letters to any government organisation. For the first time, this service enables the tracking of letters across the government in a standardised manner.
This month, the administration submitted a bill to the People's Majlis on facilitating electronic communication in order to alleviate and address the current legal obstacles in implementing a digital identity. In addition, the administration is working on a 'data protection and privacy bill' to protect all personal and private information stored digitally, as well as a cybercrime bill to make the internet a safer place for everyone.
The President highlighted that the "gov.mv message" service's ease of use will lead to an influx in requests, concerns, and complaints from individuals. He urged that each institution's Service Level Agreement (SLA) be made public in order to improve the effectiveness of this service. He also mentioned that the individual's response timelines are included in these SLAs, allowing users of the system to see the time taken for each step of the process. He also stated that if an institution fails to operate in accordance with the charter, individuals have the right to file a complaint, which can be viewed by both the institution and the President's Office.
This administration strives, in line with the Strategic Action Plan (SAP), to develop a digital identity for every Maldivian in the next two years.