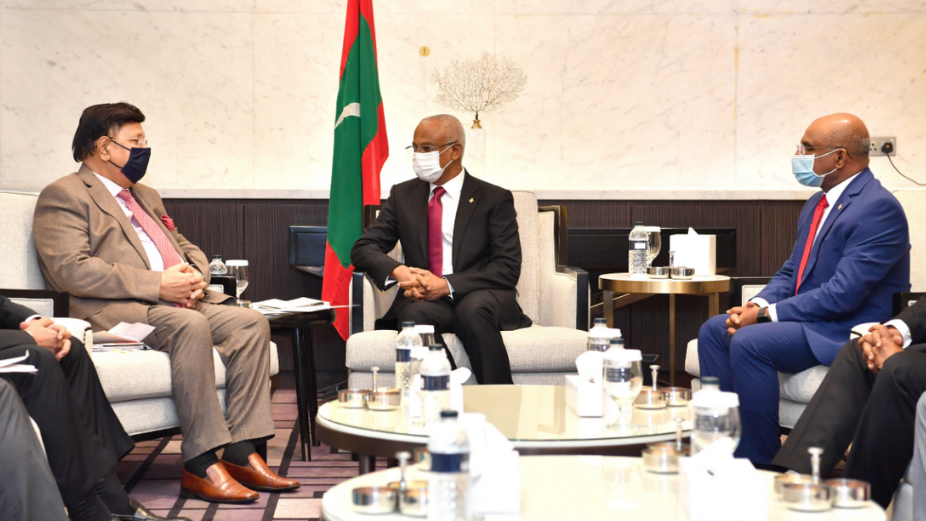 Dr A. K. Abdul Momen, the Minister of Foreign Affairs of the People's Republic of Bangladesh, paid a courtesy call on President Ibrahim Mohamed Solih yesterday afternoon at the InterContinental Hotel. The President is currently in Bangladesh on a two-day state visit.
During the call, President Solih congratulated the people of Bangladesh on the centenary of the birth of Bangabandhu Sheikh Mujibur Rahman, widely considered the father of the nation and the country's golden jubilee of independence, celebrated this year.
President Solih also expressed his gratitude to the Bangladeshi government for the continued support extended to the Maldives in various areas, including the most recent assistance during the Covid-19 pandemic. He said that Covid-19 is the most pressing problem for all of us at this time and noted that the Bangladeshi government's decision to provide the Maldives with generous grant aid as well as two deployments of the Bangladeshi Air Force's medical teams had played a prominent role in managing the Covid-19 situation in the Maldives more effectively.
The President and the Foreign Minister spoke at length on the great value accorded by both countries to bolstering the existing mutual relationship between both countries. Discussions at the meeting focused on fostering bilateral ties and developmental corporation, especially in commerce, human resource development, international cooperation, and mutual areas of interest.
The Bangladeshi Foreign Minister stated that it was their pleasure to assist the Maldives in managing the Covid-19 situation. He also acknowledged and commended the Maldivian government's positive efforts in regularising and repatriating Bangladeshi workers in the Maldives. He further noted that President Solih was the first state dignitary to have visited the country during such trying times and displayed the confidence President Solih has in Bangladesh.
President Solih further noted that his government would ensure the welfare and wellbeing of Bangladeshi citizens residing in the Maldives. He reiterated his commitment to vaccinate all eligible individuals, including all migrant workers in the Maldives, free of charge, as soon as possible. The President and the Foreign Minister concluded the call with the hope of further developing the existing relations between both countries.