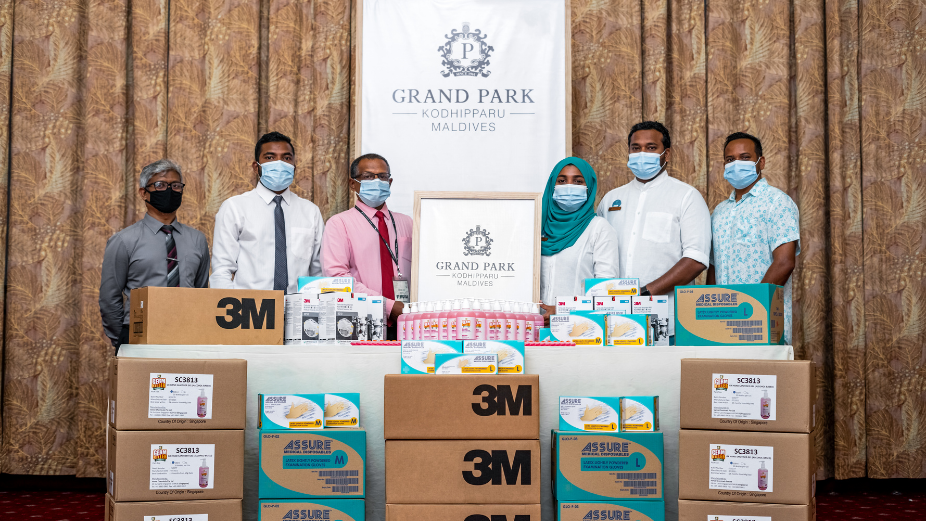 CES Park Kodhipparu, owning entity of Grand Park Kodhipparu, Maldives, recently donated medical supplies to the Ministry of Health in the Maldives in support of their Covid-19 efforts.
At a ceremony held on 2nd September 2021 in Malé, representatives of Grand Park Kodhipparu, Maldives handed over 40,000 high quality latex gloves, 10,000 N95 respirator masks and 10,000 500ml bottles of hand sanitisers to Hassan Mohamed, Deputy Director of Health Protection Agency, Ibrahim Ashraf, Head of Operations of Health Emergency Operations Centre, Mohamed Shahim, Assistant Director Administration Division and Hassan Shiyam, Programme Assistant Administration Division.
"Grand Park Kodhipparu, Maldives is privileged to have the opportunity to support the Ministry of Health. During these challenging times, we stand in solidarity with the people in Maldives and remain committed to be responsible in our business operations as well as create value for the people in our community," said Raffaele Solferino, General Manager of Grand Park Kodhipparu, Maldives.
Grand Park Kodhipparu, Maldives is Park Hotel Group's luxury flagship resort in the country. It offers 120 idyllic villas, a two-bedroom grand residence, three restaurants, an award-winning spa and a myriad of activities for the families and outdoor enthusiasts.
Visit parkhotelgroup.com/maldives for more information.