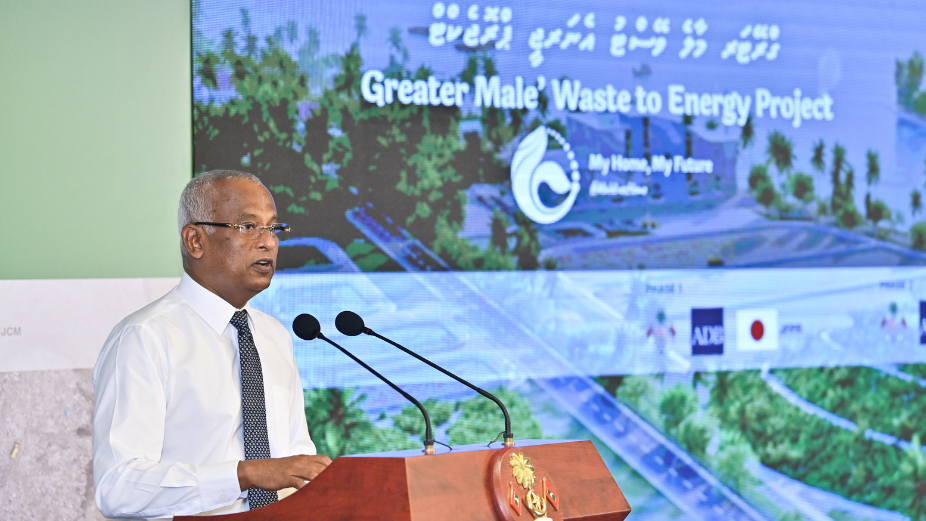 The Greater Malé Waste to Energy Project has been launched at a function held at the Hotel Jen this morning.
One of the largest waste management initiatives in the Maldives, costing USD 304 million, the project extends from the Greater Malé region to the Ari and Vaavu Atolls. Environmental protection and preservation are accorded high priority by the administration. One of its efforts to reduce hazardous waste includes the phasing out of single-use plastics; in June 2021, the Maldives prohibited the importing, manufacturing, and marketing of some items declared as single-use plastics.
Addressing the function, President Solih underscored that proper waste management has always been a challenge for the Maldives. "Our islands are remote and dispersed over a wide geographical area, adding unique challenges to safely transporting waste," he said. "Solving these problems require innovative and ambitious projects such as this one."
Speaking about waste collection, transfer, and disposal at the regional waste management facility on Thilafushi Island, President Solih underscored the unsustainable way it had been handled in the past. He noted that plumes of smoke produced at Thilafushi, which caused severe air pollution and challenges for residents of Villimalé, had ceased since September 2021.
"Through this project, significant improvements have been made to how we collect, transfer and dispose of waste in the Greater Malé region and other areas. This project is already starting to make a difference," he added.
The President went on to speak about how the project would create a cleaner environment and decrease greenhouse gas emissions. Noting that economic and infrastructure development activities increase the creation of waste, President Solih assured that the administration's waste management policy intends to address waste disposal across the Maldives.
"I look forward to seeing the second phase in action, and for the Maldives to be placed on the map as a global leader in sustainable waste management," the President said.
The Greater Malé Waste to Energy Project is carried out with the assistance of the Asian Development Bank (ADB), Japan Fund for Poverty Reduction, Asian Infrastructure Investment Bank (AIIB), and Japan Fund for the Joint Crediting Mechanism, Technical Assistance Special Fund, and the Islamic Development Bank (IDB).