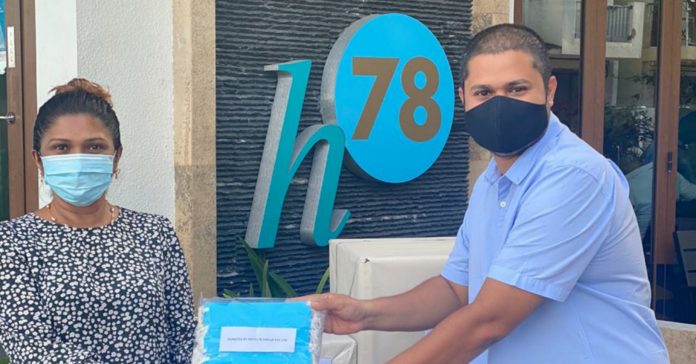 H78 Maldives has supplied 5000 masks to the National Boating Association of Maldives (NBAM).
These masks were provided to NBAM's president Ahmed Afrah, in a ceremony held in 12th August 2020, at H78 Hulhumale' by the group's Chief Executive Officer (CEO), Afaaf Abdul Majeed.
H78 is a locally renowned, award-winning beachfront hotel. This hotel is located in Hulhumale' just a few minutes away from Velana International Aiport, Maldives, as is a span away from the crystal clear, blue shoreline of Hulhumale'.
The H78 group has described this act of donating 5000 masks as its small ways of helping the community at difficult times like this.
The companies involved in the Tourism Industry have been working hand in hand to help those who have been affected due to the pandemic through its generous donations etc. On 11th August 2020, Hulhumale' has seen its first PCR sampling station, that has been introduced by NBAM in association with Tourism Ministry, Maldives Police, Housing Development Corporation (HDC), and Health Protection Agency (HPA).