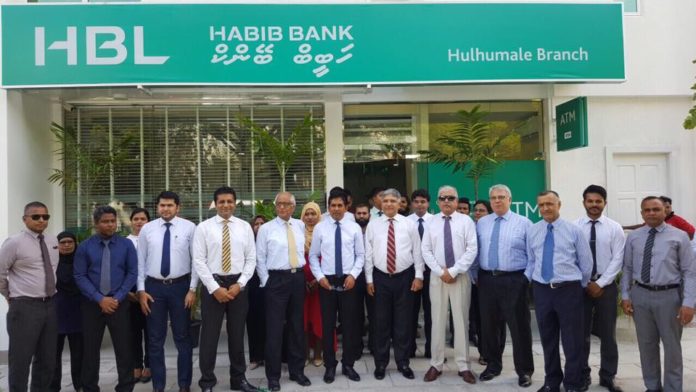 Habib Bank Limited (HBL), the second bank to open their business in Maldives, opened one of its branches in Hulhumale' on Sunday morning. This is the first time for HBL to expand their services and establish one of their branches anywhere in Maldives except for the capital – Male'.
The HBL Hulhumale' Branch was inaugurated by Minister of Economic Development, Mohamed Saeed. Head of Business for HBL, Abbas Baloch noted thatha all the services customers receive from their Male' Branch would also be available from their Hulhumale' Branch. It will be open on weekdays from 8:30 am to 2 pm.
Originally established in 1941, HBL moved its operations to Pakistan in 1947 at the request of Muhammad Ali Jinnah, hence becoming the first commercial bank to lay its foundation in the country. Embarking on a progressive journey, HBL continued to grow and expand in the successive years. The Bank's first international branch opened in Colombo, Sri Lanka in 1951, while the construction of the iconic Habib Bank Plaza was completed in 1972, the year that also marked the commemoration of HBL's 25th anniversary.
With a sizeable domestic share HBL was nationalized in 1974. The Bank became a trend setter in the banking industry, acquiring lion's share in inward foreign remittances and a major market share in loans to small industries, traders and farmers. International operations expanded and HBL now operates in over 25 countries across four continents.
In December 2003, Pakistan's Privatization Commission announced that the Government had formally transferred 51% of HBL's shareholding to the Aga Khan Fund for Economic Development (AKFED) against an investment of PKR 22.409 billion (USD 389 million). In February 2004, management control of the bank was handed over to AKFED. By April 2015, the Government of Pakistan divested its entire shareholding of 41.5% through the Privatization Commission of Pakistan, thereby officially making HBL Pakistan's largest private bank.