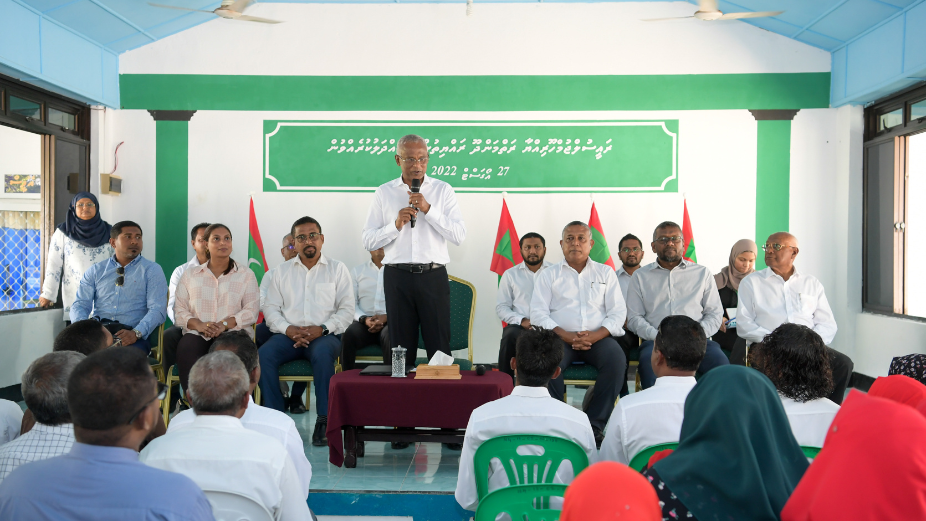 President Ibrahim Mohamed Solih announced the administration's plans to develop a harbour in Raiymandhoo Island in the Meemu Atoll on Saturday. He explained his plans to alleviate the age-old grievances of the island during a meeting with the community.
Noting that previous administrations had prioritised the development of islands with larger sizes and populations, the President stated that his administration seeks equitable development of all islands, irrespective of their population or size. The President said that he had discussions about the most pertinent needs of the residents at his meeting with the members of the island council and Women's Development Committee (WDC) earlier in the day.
The President also announced the administration's plans to carry out coastal protection works to address the island's beach erosion problem in conjunction with the harbour development project. Raiymadhoo is the only island in the Meemu Atoll which lacks a proper harbour.
The water and sewerage projects for the island, initiated by this administration, are also currently underway. The President revealed that the sewerage network project is expected to be completed in December, followed by the water supply project in March 2023. The development of a futsal and volleyball court is also in different stages.
Speaking about improving healthcare services across the country, the President noted the importance of ensuring reliable connectivity between the islands for such services. He also announced that the "Raajje Transport Link" ferry service would help address numerous problems faced in the atoll. Today's visit was the President's first to Raiymandhoo Island, where he expressed gratitude for the warm welcome by the community.
A high-level government delegation, including cabinet members, accompanies the President on the visit. The cabinet minister briefed the community about the developmental plans for the island and answered their queries.