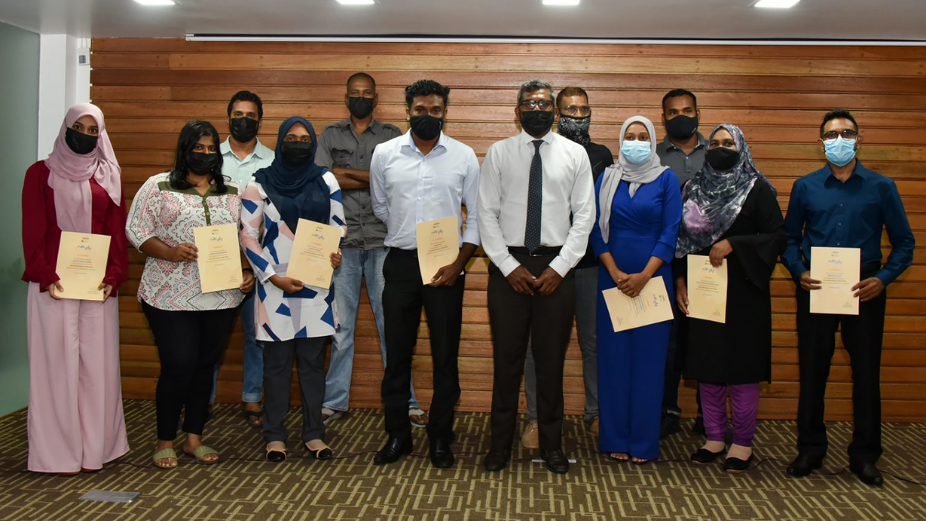 An opportunity was announced on the 8th of December 2020 for the unwavering MSMEs (Micro, Small & Medium Enterprises), entrepreneurs, start-up businesses and individuals across Maldives, named Eejadhee Mansa. In a small ceremony held at the Exhibition Center of Housing Development Corporation (HDC), the company's Deputy Managing Director, Ahmed Athif awarded the certificates to the winners of the Eejadhee Mansa competition.
Winners of Eejadhee Mansa

The competition was launched with (5) broad categories, specifically Food and Beverage, Arts, Wellness, Lifestyle and Services. More than 36 applicants took part in the competition, and amongst them (2) winners were selected from each category. The winner of each category will be awarded a 12-month rental waiver while the second winner / runner-up will be awarded a 6-month rental waiver on the respective commercial unit awarded from Hiyaa Commercial units at Hulhumalé Phase 2.
Housing Development Corporation has always stood in support for the local businesses and understood the impact of it on the economy of Maldives and livelihood of its people. Despite encountering the waves of a pandemic storm, Eejadhee Mansa will amplify new opportunities and create a path for economic resilience. Preserving the ideas of the local businesses in the Country further complements the culture and character of Maldives.
Housing Development Corporation believes in encouraging and preserving the ideas of small and local businesses and nurturing entrepreneurship among the people of Maldives, and Eejadhee Mansa is one step among many.