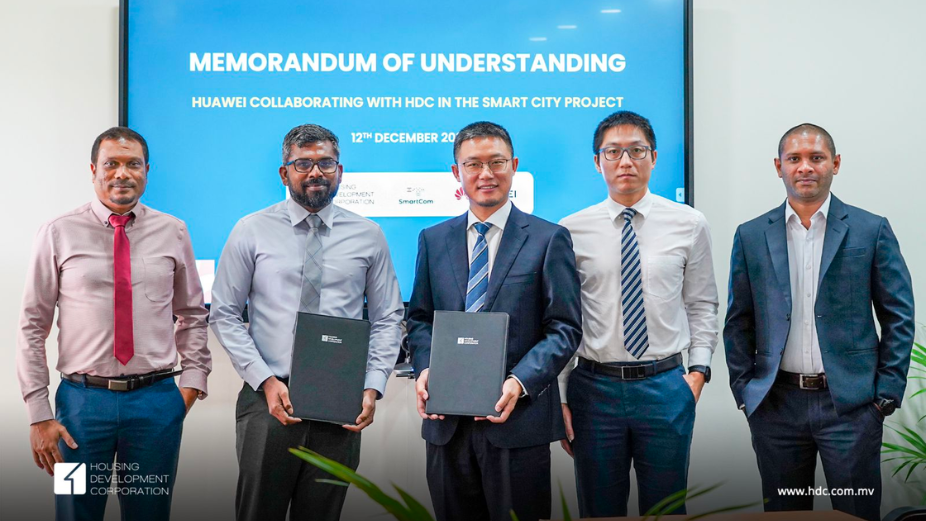 Housing Development Corporation Ltd (HDC) signed a Memorandum of Understanding (MoU) with Huawei Lanka Pvt Ltd. on 12th December 2022, to collaborate with HDC's smart city initiative.
Huawei is a global leader in providing information and communications technology infrastructure and smart devices. Under the MoU, Huawei will be contributing with its technical expertise to design and implement smart city solutions.
HDC and Huawei believe that this collaborative partnership will bring various benefits for HDC's smart city initiative, by being able to obtain the necessary expertise and digital solutions required to transform Hulhumale into the first smart city in the Maldives.
"Huawei's experience in Maldives goes beyond 12 years, providing Information and Communications Technology (ICT) infrastructure and solutions. Huawei will maintain this vision of "In Maldives, For Maldives" to bring digitalization to every individual, home and organization for a fully connected and intelligent Nation to support the economic growth in Maldives through cutting-edge ICT solutions. Huawei is committed to sharing our global experience on Smart city, Smart Tourism and Smart Eduction to support Maldives to speed up the digital transformation," stated Mr Tao Guangyao-Huawei's CEO.
With an ambitious vision of building smart and connected communities, HDC has been paving the way towards making Hulhumale a digitally thriving smart city under a dedicated brand called SmartCom. The company has been continuously investing in digital infrastructure, identifying and leveraging in new technologies and smart solutions to bring in sustainable urban development, ensuring social inclusion, enhancing mobility, creating safer, clean environments and creating a more livable city.