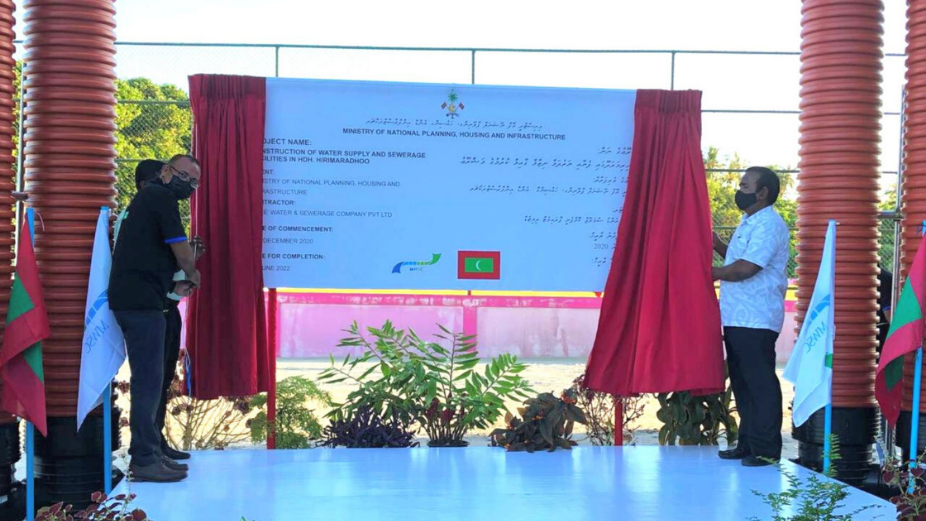 The HDh. Hirimaradhoo water and sewerage project contracted to Male' Water and Sewerage Company (MWSC) has been officially inaugurated yesterday.
At a ceremony held at Hirimaradhoo yesterday, the project was inaugurated by the Managing Director of MWSC Hassan Shah, Hanimaadhoo MP Abdul Gafoor Moosa, HDh. Atoll Council President Mohamed Siraj and Hirimaradhoo Council President Mohamed Waheed.
According to MWSC, the water project at Hirimaradhoo involves a 8.06-kilometer main water pipeline network, construction of an RO facility, installation of two RO plants, and three water tanks to store water. Additional work includes the installation of water meters in households, providing water connections, and supplying clean and safe drinking water.
The sanitation project involves establishing a 5.02-kilometer main sanitation network, a 1.12-kilometer pipeline, construction of an administrative building, three pump stations and sea outflow. Additional work includes establishing junctions in households, providing sanitation connections, and providing sanitation services to households.
The HDh. Hirimaradhoo water and sewerage project was contracted to MWSC by the Ministry of National Planning, Housing and Infrastructure for MVR 69.14 million.