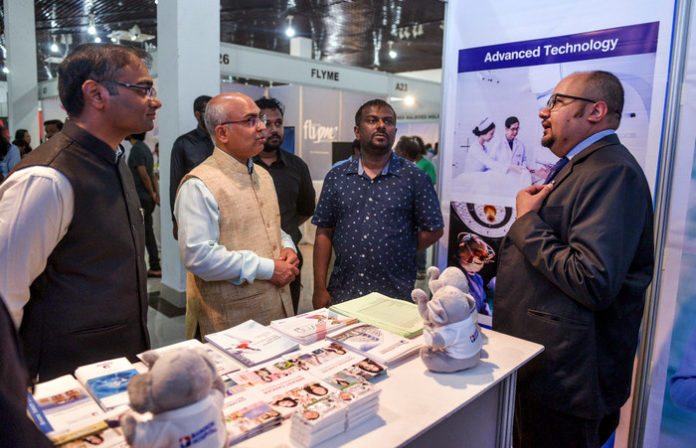 The Annually held Vacation Expo 2017 has been launched on Thursday. Organised by leading event management company Highrise, the 2017 edition was launched by Indian ambassador to the Maldives Mr Akhilesh Mishra and Top officials from Highrise. For the second year running, Vacations Expo is sponsored by Inner Maldives Holidays.
Entrance is free for the expo and is being held at National Art Gallery until the end of Saturday. It is open to the public from 2:30-6pm and from 8-11pm on Thursday and Saturday, and from 4-6pm and from 8-11 pm on Friday.
A total of Twenty-six exhibitors has taken part in the expo including local tour operators Kraken, Inner Maldives Holidays and Voyages Maldives, Local guesthouses Vinorva, Reveries Diving Village, Kaani Hotels, Plumeria and Pebbles Inn, Islamic Pilgrimage agents such as Musafireen and Hajj Corporation and local airlines Maldivian and Flyme.
International participants include Kingsbury Hotel, Amaya Resorts, Indian travel agent Holiday Kerela, Lanka Hospital, Durdans Hospital all showcasing their products.
All exhibitors have offered exciting prizes to be won by visiting the expo including return air tickets to various local and international destinations, excursions, hotel accommodation, resort retreats, Umrah Packages, Spa packages and travel insurance all up for grabs.
The Annual Expo brings together leading travel companies, hoteliers, airlines, tour operators, travel agents and so on under one roof with exhibitors offering attractive tour packages aimed directly for the expo.
Event organiser Highrise has successfully championed such events having delivered various local and international events including Maldives Travel Awards, Maldives Film Awards, Maldives Living Expo and Sounds of Maldives.
Image Credits: Mihaaru