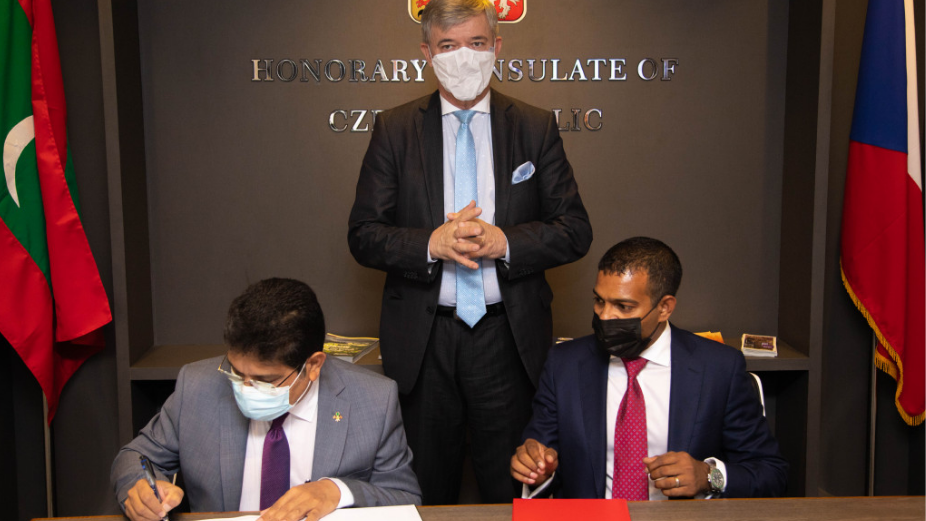 Czech Republic has opened an Honorary Consulate in the Maldives last week. Czech Foreign Minister Jakub Kulhanek appointed Mr. Madeeh Jamal as historically first Honorary Consul of the Czech Republic in the Maldives in July this year.
The Honorary Consulate was opened on 7th October 2021 by the Ambassador of the Czech Republic to the Maldives, Milan Hovorka, Honorary Consul of Czech Republic in Maldives, Madeeh Jamal and the Foreign Secretary of Maldives, Abdul Ghafoor Mohamed.
During the ceremony, Mr. Milan Hovorka stated that the opening of this Consulate would help further strengthen the bilateral relations between the two nations. In addition, it would allow the nations to explore avenues of cooperation in various fields. He added that it would help ease issues faced by Czech Republic citizens residing in the Maldives.
Mr. Madeeh highlighted that under his leadership, he will work to foster closer development ties between the Maldives and Czech Republic, and to help pave the way for further easements to Maldivian citizens and businesses with the establishment of the Czech Consulate in the Maldives.
Foreign Secretary Abdul Ghafoor Mohamed also reiterated that the opening of the Consulate would make it a lot more convenient for Maldivians to apply for visas to travel to the Czech Republic.