Hotel Jen Male Maldives initiated an awareness campaign on "Plastic Bag-Free Day," highlighting the need to phase-out plastic bags and promote recycle paper bag. Plastic bags can take hundreds of years to degrade, releasing tiny particles of toxic chemicals into soil and water, polluting the environment and harming many living organisms, such as those in marine environments.
The colleagues working in different departments gathered up at the all-day dining restaurant Lime, where the event took place after the General Manager Rahim Flynn address the colleagues on the importance on using recycled and environment friendly bags, the pledge was taken by all the colleagues where they pinned the Jen Mega bag with recycled paper bags of Jen. The colleges were given further information on the topic by Rhoda Maceda Director of Human Resources and CSR Champion of Hotel Jen Male Male Maldives.
Hotel Jen has also started the plastic recycle campaign in April 2017 in collaboration with the beam parley Beam is Non-Government organization (NGO) focusing on Biodiversity Education & Awareness in Maldives and Parley is the international environment protection organization for the Oceans. Together with Parley, Beam focus is to reduce and Intercept the waste that will end up in oceans in Maldives. It empowers the island communities and organizations in protecting the environment through awareness sessions, clean-up campaign and plastic waste collection and segregation.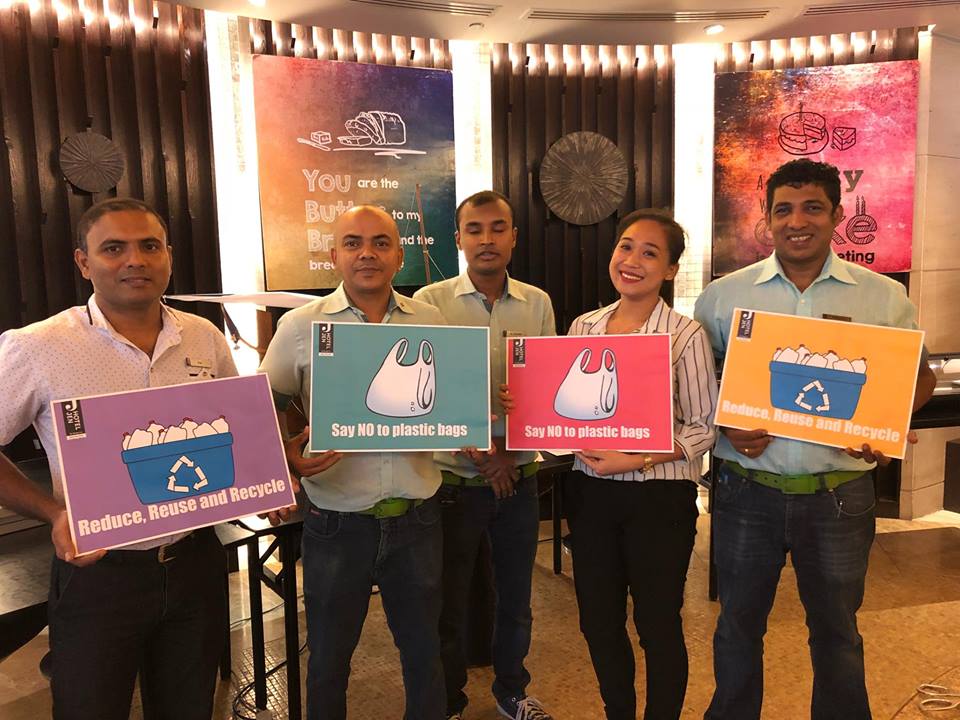 From April – December 2017 Hotel Jen has collected a total of 367 kg of plastic and from January up to June 2018 we have collected 235.7 kgs of plastic and sent to Beam Parley. The target is to collect more than last year. We also have run several awareness sessions to enhance the importance of minimizing and recycling the plastic in their daily lives. The plastic free July "Say no to plastic bag" campaign at hotel Jen Male Maldives will be one of our initiative to moving away from single use plastics, by joining the global fight against plastic in conjunction with the world no plastic campaign month.
The Jen Mega Bag will be kept at the hotel lobby throughout the month of July and with pledge notes for guests who are visiting to take a photo or selfie and create awareness on this by using the hash tags #Plasticfreejuly #HotelJenMaleMaldives #TheJenBag
#WorldNoPlasticDay #ChoosetoRefuse #CleanGreenerMaleCity