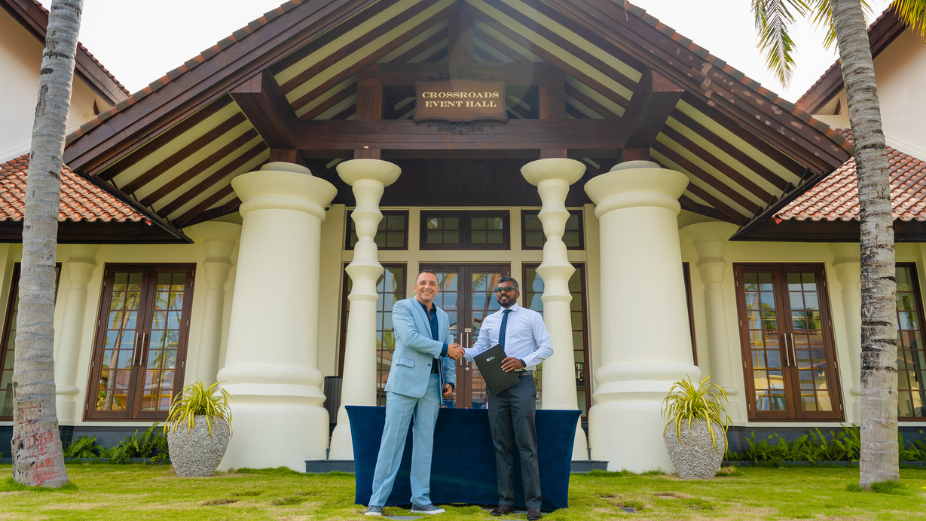 Housing Development Corporation (HDC) has selected CROSSROADS Maldives to be its preferred partner for hosting & catering events, meetings, outings and banquet.
On 27th October 2021 Ahmed Athif, HDC's Deputy Managing Director and Tolga Unan, Managing Director of The Marina @CROSSROADS and Hard Rock Hotel Maldives officially signed an agreement to enter into a 12 Month partnership that enables HDC to hold their events and conferences amongst the facilities around The Marina @ CROSSROADS along with its stunning lifestyle resorts, Hard Rock Hotel Maldives and SAii Lagoon Maldives – Curio Collection by Hilton, both of which have direct access to extensive facilities at The Marina @ CROSSROADS, an 800-metre lifestyle area and beach walk featuring retail, entertainment and dining outlets.
The contract signing ceremony was held at the Event Hall @ CROSSROADS located at the heart of its plaza called The Marina.

"We are delighted to be the preferred host venue for HDC for the next 12 months period. Our ambition is to position CROSSROADS Maldives as business hub for Maldivian businesses. HDC partnership marks a milestone in this ambitious journey. We are thankful to Mr. Athif and his team for the trust they have shown to our brand and I am certain that this partnership will be a win-win for both our companies" said Tolga Unan.

The facilities include a 30-berth quay, complete with world-class⁠ amenities and exclusive concierge services⁠, the Junior Beach Club and Camp, the CROSSROADS Event Hall, Maldives Discovery Centre, and Marine Discovery Centre – the project's environmental and educational hub.
Crafted from tales of the past and designed to inspire the present, CROSSROADS Maldives is the next chapter in the story of one of the world's most amazing destinations.