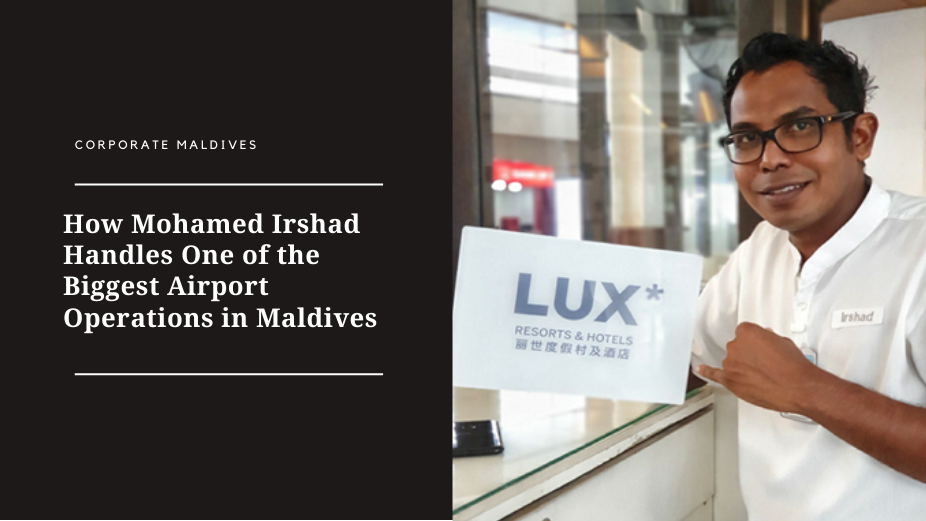 Mohamed Irshad, Airport & Lounge Manager at LUX* Resorts Maldives, is handling one of the biggest airport operations in the Maldives, including seaplane, speedboat, domestic flights and managing LUX* Maldives Resorts fabulous airport lounge with 11 team members.
What makes his operation bigger is the risk that he takes to execute the daily tasks within a timely manner to attend speed boat, seaplane as well as domestic transfers. His strength is the amazing airport team and they are the pillars of LUX* airport operation. They are modified to multi-task their abilities from the single routing they followed to multiply their strength to handle both resorts at the same time. Also, to ensure the maintenance of relationships with airlines, valued suppliers and keep the consistent beauty of the most beautiful lounge in the airport. His tasks were tripled along with successfully opening of LUX* North Male Atoll. 
His past experience comes through with the combination of an amazing 9 years of experience at Hilton's luxury brand, Conrad Maldives where he started his hospitality career as a laundry attendant and moved to food & beverage department where he spent 4 years within 5 world-class restaurants. He again jumped on to front office operation where he spent 1 year as Excursion guide and 3 years at Guest relations island host butler. He, later on, moved to do the preopening at Jumeirah Vittaveli Maldives where he worked 3 months as guest service executive, 1 year as a butler, 2 years as head butler and 3 years as cluster Airport manager at Jumeirah Maldives Resorts.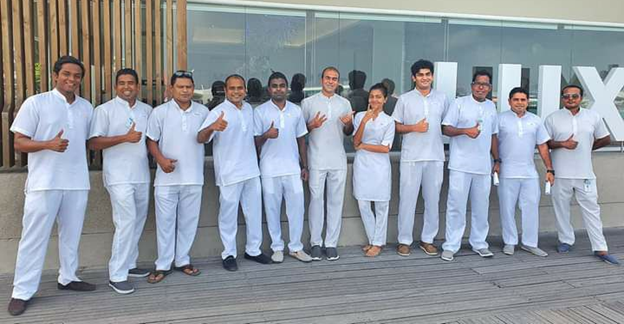 Irshad is proud to get learning experiences from abroad which includes Australia and Dubai which has contributed to a greater understanding of hospitality industry and global trends with reference to intuitive service and the understanding of both locals and international markets. Having the opportunity to stay in five-star hotels and some of the finest restaurants provided him with valuable insights and a global perspective of the industry and of five-star establishments with the skills gained during his training with Melbourne Hilton on the park 2010 and Burj Al Arab and Madinat Jumeirah on 2015.
Irshad is a well experienced Head Butler and Airport Manager with a demonstrated history of working in the Maldives hospitality industry. He is skilled in Food & Beverage, Hotel Management, Customer Satisfaction and Event Management, and has strong leadership qualities. Undoubtedly, Irshad is leading the highest inventory combined airport operation in Maldives 5-star luxury airport operation.