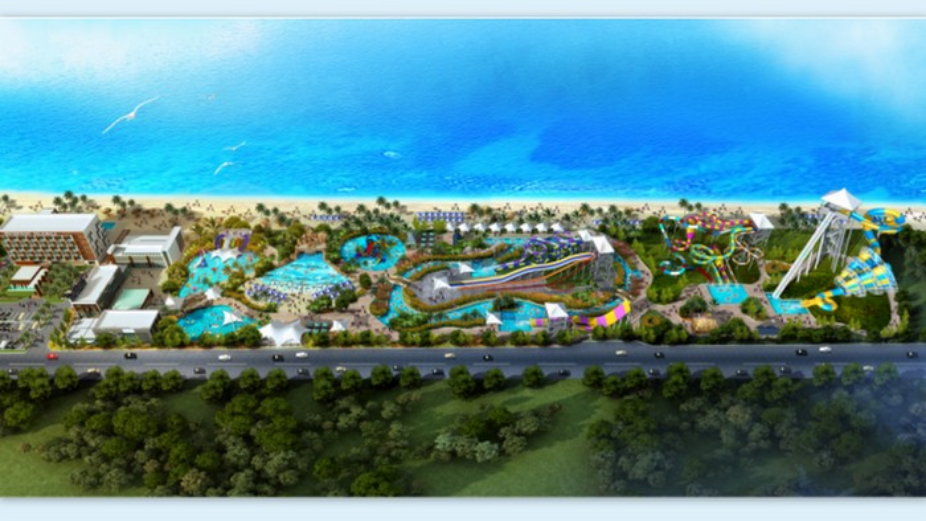 A few years ago, a water theme park was planned to be built on the large plot of land near the main bus terminal in Hulhumale'. During the previous administration of President Abdulla Yameen, Housing Development Corporation (HDC) stated that the project would be completed around 2018 or 2019. However, the investment which had commenced on the large land area abruptly stopped, and it remains empty to this day.
HDC, which oversees the development of Hulhumale, had signed an agreement with Malaysia's Miri Housing Development Sdn Bhd in 2017 to develop and operate the water theme park and hotel. The USD 25 million development was supposed to come with numerous attractive facilities, including different types of water slides for both adults and children such as spiral slides, speed slides and family slides, kids pool, bumper boats, water houses, water rollers, water gyro, aqua loops, fountain square and rivers.
Additionally, the water theme park was also to come with related commercial developments such as food and beverage outlets and a six-storey hotel. However, work on the project did not come to fruition. Even the 50-room hotel project was left incomplete.
HDC's Managing Director Suhail Ahmed stated that the water theme project came to a halt in 2020 due to the COVID-19 pandemic. This is in spite of the fact that the initial date of completion given by HDC was many months prior to the first case of COVID-19. An additional time period of 15 months was given to HDC as per their request. Now, according to Suhail, discussions are being had to recommence project works. As per his sentiment, the corporation is seeking to delay the deadline once again.
Although the premises look mostly unfinished, HDC states that a large percentage of the project works has been completed. As such, the concrete structures required for water park construction in Phase 1 have apparently been completed, and what is left is establishing the water slides. HDC reiterates that the project will swiftly be completed once the project works recommence.
There are some worrying aspects about the project, apart from the lengthy delay. Discrepancies in relation to the project have been noted by the audit department of HDC, and the case has been forwarded to the Anti-Corruption Commission as well. The discrepancies are related to funds given to HDC to construct the hotel being higher than what was allowed, and how the land rent was decided upon.
On the other hand, once completed, the water theme park will undoubtedly bring about many benefits for the residents and businesses of Hulhumale'. It is projected to transform the landscape of the city creating a more youth friendly environment. Furthermore, it will also create an additional platform for the city to become a centre for urban tourism in the country, and the guesthouse industry will be positively impacted as well.
The difference between vision and reality, however, remains stark to this very day.