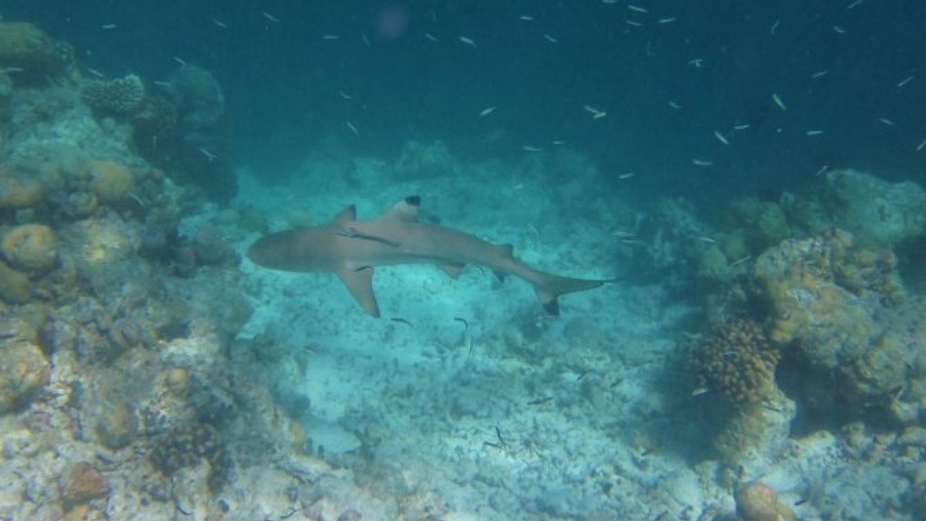 Many scuba divers have 'diving with sharks' very close to the top of their diving bucket list and visit the Maldives with high hopes of ticking it off the list. Those who have been diving in Lhaviyani Atoll are very likely to have had memorable encounters with sharks we have many dive sites where they can be seen, all within reach of Hurawalhi Maldives. These sleek and magnificent creatures patrol the channel edges, reef corners and even the inner reefs, sometimes alone, sometimes in large numbers, and the advent of diving with underwater scooters has made their favourite hangouts amongst the currents even more accessible.
The Maldives is a shark sanctuary, with shark fishing having been banned throughout the island nation since 2010, making it a well-known shark hotspot amongst divers, with a large variety of species seen regularly. The marine biologists at Hurawalhi's Marine Biology Center, Aline and Lara, think Lhaviyani Atoll might well have the largest reef shark population in the Maldives and are planning a new research project to assess the numbers using Baited Remote Underwater Video (BRUV). The project aims to give baseline data for the shark population with the possibility of continuing over a number of years in order to measure the stability of the population.
"We are very excited about this study and, with Aline and Lara's help, look forward to sharing the results with you throughout the project," a statement by the resort read.
The team at Prodivers Dive Center at Hurawalhi Maldives are ready to take you on thrilling shark diving adventures, you can even complete the PADI Specialty course, 'Maldivian Shark and Ray Diver' whilst at the resort.
Coral reefs of the Maldives deemed the best year-round diving and snorkeling destination in the Indian Ocean, are proof that the country's striking beauty extends to the underwater. To sate the hunger for adventure, guests can add an excursion or two, group or private, with Hurawalhi's passionate marine biologists and have the opportunity to meet some 380 manta rays identified by the property so far.
Set on an enchanting private island in the pristine Lhaviyani Atoll in the Maldives, with 90-villas the adults-only luxury resort is as brilliant as the ocean that laps against its beaches. The property has the world's largest undersea restaurant '5.8', which is elusive gastronomical heaven: the spectacular 5.8 dazzles and delights diners with a multi-course tasting extravaganza, garnished with a state-of-the-art location.