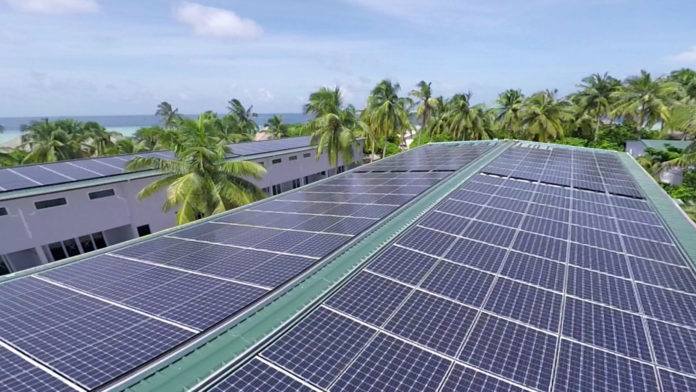 The Maldives is well know for its great weather and warm climate, and Hurawalhi Maldives Resort has announced that it is at the forefront of its usage of renewable energy with its comprehensive environmentally friendly solar Hybrid Energy System.
This solar energy system will help reduce the dependency on diesel fuelled generators that would otherwise provide the power requirements for the Resort. Initial targets are to produce 3,000kWh of solar energy per day, which would be the equivalent of almost a quarter of the Resort's power demand.
As the Resort continues to prepare itself for the opening later this year, solar panels have been installed on the roofs of the team village. Installation will not stop here though as the plan is also install the panels on the arrival jetty and the jetty leading to the Aquarium over water restaurant. In total, Hurawalhi will have 3,767m2 of solar panels on roofs and a further 476m2 on the jetties, resulting in 4,243m2of solar panels, which is approximately the size of 26 volleyball courts!
In addition to the solar panels, Hurawalhi will also feature a heat recovery system that will re-use the heat produced by the generators themselves to help meet the hot water requirements of the Resort. This will help ensure an even more efficient power plant and is expected to save 930kWh per day.
These environment friendly initiatives are being developed for Hurawalhi in partnership with T&D Water and Energy Green Solutions, an Italian based engineering company. Located in Polverara, close to Venice, the company has vast experience in this field and are using solar panels that are produced in Europe and Japan.