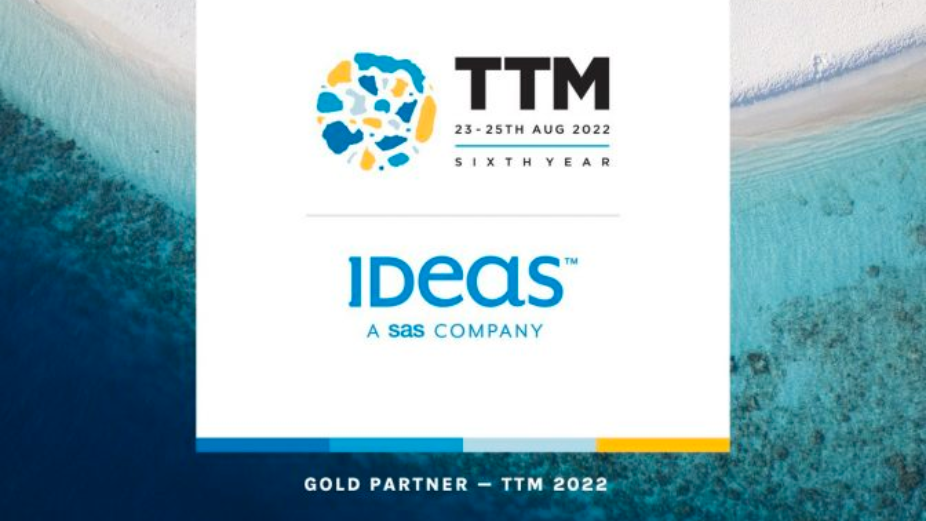 A pioneer and global technology leader, IDeaS has signed as a gold partner for TTM Maldives 2022, Maldives leading international travel trade show which will be held from 23rd to 25th August 2022.
IDeaS offers industry-leading revenue management solutions for business of all types and sizes in the global hospitality and travel industries. They transform data into clear and actionable insight, so that clients can price, forecast and report with speed and confidence which can help to improve business performance and drive greater profitability. The mission of IDeaS is to make revenue management user-friendly, insightful and profitable that you would not dream of doing it any other way.
As part of TTM Maldives 2022, the prescheduled meetings will be held at Meeruma Conference and Facility on 23rd and 24th August 2022. The TTM Travel Summit and TTM Awards & Gala will be hosted at CROSSROADS Maldives on 25 August. More than 200 hoteliers, suppliers, related industries, and travel industry professionals from Maldives and abroad are expected to visit TTM to network, negotiate and discover the latest industry opinion and trends in Maldives.
The registered exhibitors of TTM will also get a lot of added benefits including the usage of "Connect" Portal to pre-arrange meetings online prior to the event. Exhibitors will also get access to the invitation-only TTM Travel Summit and Awards & Gala night. Every year, TTM Maldives sees over 3000 pre-scheduled meetings with over $1 billion worth of contracts discussed.
Registrations for TTM Maldives 2022 can be done through: connect.traveltrademaldives.com/register
For further information, please email ttm@traveltrademaldives.com