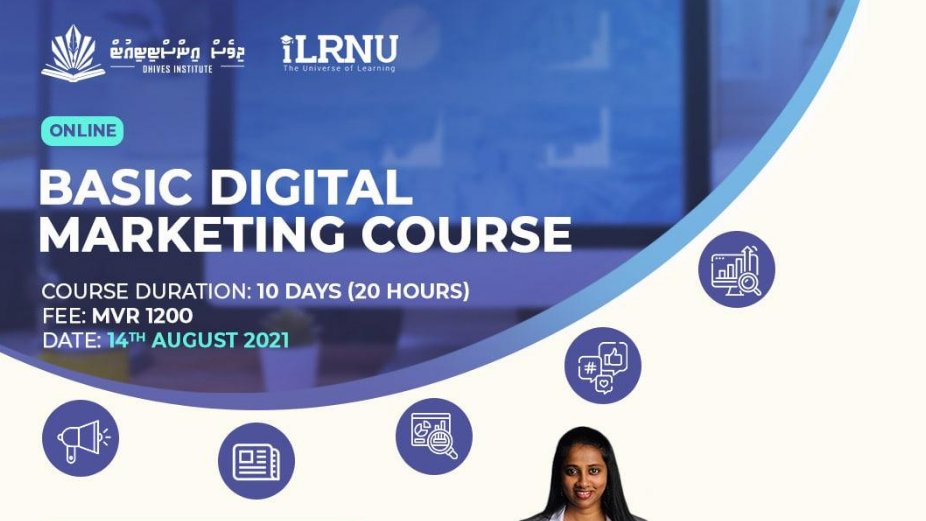 Dhives Institute has announced that it will be carrying out a basic digital marketing course, to begin on 14th August 2021.
The course, which will be carried out online, will continue for 10 days for a total duration of 20 hours. The course fee is set at MVR 1200.
The program offers the ultimate guide to digital marketing. Program highlights include:
A digital marketing strategy template,
Developing a content marketing strategy,
Crafting a digital advertising plan,
Developing a social media strategy,
Following email marketing best practices,
Designing a search market strategy,
Applying website analytics to digital marketing,
Leveraging conversion rate optimization to drive growth.
The course will be led by Dr. Eniya Thendral from Singapore, an established marketeer who has successfully trained 5000 students in India, Malawi, Singapore, UAE and Australia. She has partnered with various organisations to promote and establish their brand, and is currently running digital marketing for five prestigious organisations.
For more information about the course, please call 7948802. Alternatively, you can visit https://www.dhives.mv/
Founded in 2016, Dhives Institute is a tertiary education institution providing an unparalleled, diverse learning environment for all. With an experienced and highly qualified team of educators, Dhives Institute provides several courses to enrich the lives of its students.