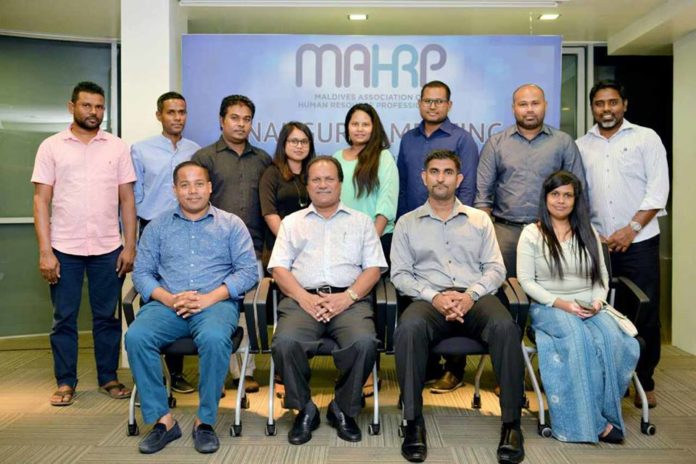 Maldives Association of HR Professionals (MAHRP) held its inaugural Meeting on 24th February 2018 at Salt Café. The Guest of Honor of the event was the President of Civil Service Commission (CSC) of Maldives Dr Ali Shameem.
At their inaugural meeting held in capital Male, the organization elected their first executive committee. Hussain Afeef, Regional Director of Training, Development and Quality Assurance at LUX* Resorts and Hotels, was appointed as the president of MAHRP. Ahmed Ibrahim, Head of HR Business Partner at Bank of Maldives, and Fathimah Mohamed, Head of HR and International Relations at the Civil Service Commission, were appointed as vice presidents.
Other members elected to the committee include:
Executive Secretary: Ali Adam, Head of HR at Universal Resorts
Secretary: Nizna Nizar, HR Manager at ADK Company Pvt Ltd
Treasurer: Mohamed Siraj, Assistant HR Manager at Universal Resorts
Committee Member: Hussain Shuaz, Training Lead at Bank of Maldives
Committee Member: Hussain Faruhad, Resourcing Manager at Bank of Maldives
Committee Member: Aminath Shaly, Cluster HR Director at S Hotels and Resorts (Maldives) Pvt Ltd
Committee Member: Mohamed Athif, Director of Human Resources at Kandima Maldives
Committee Member: Mohamed Shahid, Director of Talent and Culture at Fairmont Sirru Fenfushi
Addressing the 34 members in attendance, Dr Shameem advised them that a unified effort is needed in order to nurture human resource development in the Maldives and strengthen employer and employee relationship.
MAHRP is the first professional association registered in the Maldives which is dedicated to human resources and people development.
The association's mission is to serve the needs of HR professionals by providing the most current and comprehensive resources and to advance the profession by promoting HR's essential values, setting professional standards and providing the know-how. It is committed to linking and connecting HR professionals and practitioners locally and overseas through signature events and membership activities.

Corporate Maldives Academy (CMA) will be hosting "Maldives HR Forum", a unique and innovative event designed to engage, challenge, develop and inspire business leaders and HR personalities in the Maldives. The business-networking event catered to Senior-level professionals (Directors, Vice Presidents, and CPO's) and HR professionals will be held on 3rd May 2018. Registration deadline is set for 15 March 2018. Registration for the forum is available via the following link forum.academy.mv. The fee for the conference ticket is $100 per person.