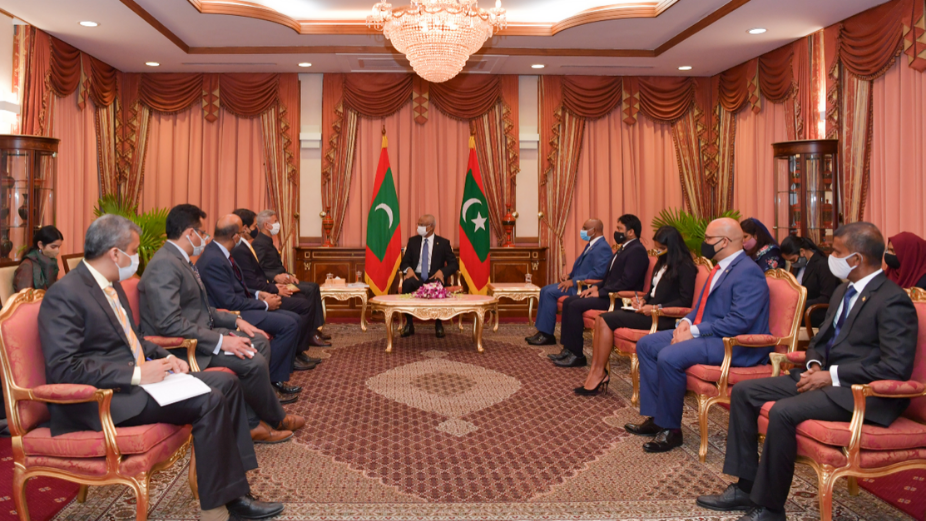 President Ibrahim Mohamed Solih met with His Excellency Dr. Subrahmanyam Jaishankar, Minister of External Affairs of India, yesterday morning at the President's Office. The President and Minister spoke at length on the long-standing and friendly bilateral relationship between Maldives and India. Both acknowledged that that relationship has markedly improved in the past two years, evidenced by the increased frequency of high-level exchanges and enhanced development cooperation.
Relaying his well wishes to Indian President Ram Nath Kovind and Prime Minister Narendra Modi, President Solih also expressed his sincere appreciation to the Indian Government for the valuable support they have extended the Maldives throughout the Covid-19 pandemic. He especially noted the Indian Government's generous decision to gift the Maldives with an additional 100,000 doses of the Covishield vaccine, in addition to the 100,000 doses they had provided earlier. India's generosity enabled the Maldives to become one of the first countries to receive the vaccine, and initiate a mass inoculation drive targeting all eligible individuals residing in the Maldives.
Speaking further, President Solih highlighted the invaluable financial support provided by the Indian Government to the Maldives, that has been critical to our efforts to ameliorate the negative economic repercussions of the pandemic. He also thanked the Indian government for its faith in the Maldives' containment measures against the virus, and facilitating a travel bubble between the two countries, which resulted in India becoming the largest source market for tourists visiting the Maldives in 2020.
The President and Minister also discussed a wide range of development cooperation projects being taken forward in the Maldives, with Indian assistance. This includes roads and storm drainage systems in Addu city, water and sewerage projects in 34 islands, and the Greater Male' Connectivity project – all of them being taken forward under the Line of Credit agreement the Maldives has with India. President Solih and Minister Jaishankar reaffirmed their wish for these projects to succeed, in spite of the ongoing difficult circumstances. At the call's conclusion, both the President and the Minister, reaffirmed their mutual desire that the Maldives-India relations continue to strengthen, and that the two countries cooperate on issues of mutual interest.