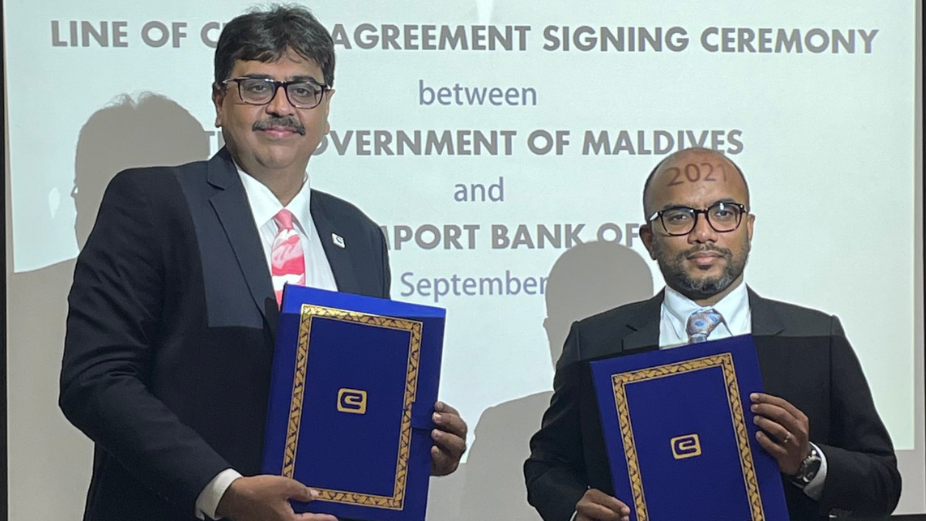 A USD 40 million Line of Credit dedicated to the development of sports infrastructure in Maldives was concluded between EXIM Bank of India and Government of Maldives on 02 September 2021.
The Line of Credit was initially offered during the visit of External Affairs Minister Dr. S Jaishankar  to Maldives in February 2021.
The credit line of USD 40 million would be used exclusively for the construction of a variety of stadiams and sports complexes across Maldives that cater to football, athletics, badminton, tennis, table tennis and a range of indoor sports. Moreover, the funds are meant to help prepare Maldives for hosting the Indian Ocean Island Games. 
The High Commission of India highlighted the priority given by President Ibrahim Mohamed Solih's administration for the development of sports in the Maldives- which India welcomes and wished to be a part of.
India has also pledged to build an international cricket stadium in the Maldives under the Line of Credit worth USD 800 million announced back in 2018. Construction of a Cricket Stadium in Hulhumale' was one of the first projects to be included under $ 800 million Line of Credit extended to the Maldives. The project is at the tendering stage.
President Solih attended an Indian Premier League (IPL) match in Bengaluru in April 2019 and subsequently expressed his desire for the development of cricket in the Maldives. A plan was worked out with the Board of Control for Cricket in India (BCCI) to take this idea forward. Camps for the training of Maldivian cricket umpires and coaches have been conducted. Under this programme, Maldives National Men's and Women's cricket teams will attend a month-long training camp at the premier Centre for Sports Science in Chennai, India.
In November 2020, during a visit of the Foreign Secretary to the Maldives, a bilateral MoU on cooperation in Sports and Youth Affairs was concluded to provide an institutional framework for the ongoing cooperation in the field of sports.
The development of sports is an important element of India's developmental assistance to the Maldives. Under India's MVR 200 grant assistance, Outdoor Gyms are being set up across 61 islands of the Maldives. The Ekuveni ground track, a sporting landmark in Male' city, was also developed under this grant and inaugurated in January 2021.