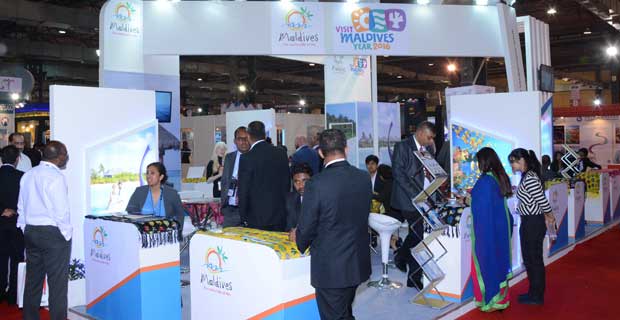 India has become one of the world's fastest-growing outbound travel markets. There were over 20 million Indian outbound travelers in 2015, likely to grow to 50 million in 2020. International tourism expenditure by Indians likely to grow to US$ 30 billion in 2020. Also India is blessed with 850 million domestic tourists, many with potential to travel abroad.
There are many positive factors influencing Indian demand for outbound travel. The national economy has been strong and middle-class disposable incomes have been rising very fast. Airline capacity has risen sharply. Internet users in India is expected to rise to 580 million in 2018 which will lead to new opportunities for travel industry.
It's easy to see why everybody is interested in India's travel market. According to a report by Aranca, online travel is expected to grow by 17.8 percent from 2013 to 2016. The online bookings' slice of the entire Indian travel booking market is also expanding, expected to make up 46% in 2017, up from 41% in 2014. Before the year 2020, over half the Indian market will be booking their next holiday online.
The push to get India and its rising middle class traveling is leading to a rapid growth in infrastructure as well. Budget hotels, new airports, new airlines, easing travel restrictions, everything is helping Indians travel both inside and outside the country. The travel industry is expected to be worth US$27.5 billion this year, up from US$19.7 billion in 2013, says the data from Aranca. The scope for growth is huge, as more people are brought online, and more technology is built and used by a mass audience.
Currently Indian tourists leads the the tourist arrivals to Sri Lanka by over quarter of tourist arrivals. Currently, Indian tourists accounts for less than 5% of total tourist arrivals to Maldives. Maldives is not even among the top 20 destinations for Indian outbound market. With new direct flights to Delhi & Mumbai, it is expected that Indian tourist arrivals will overtake China as the leading market for Maldives.
Fig 1. Top Destinations in H1 FY 2015 vs H1 FY 2014

2015
Shift in Rank
2014
1. Dubai, United Arab Emirates
0
1.       Dubai, United Arab Emirates
2. Bangkok, Thailand
+ 1
2.       Singapore, Singapore
3. Singapore, Singapore
– 1
3.       Bangkok, Thailand
4. Paris, France
+ 4
4.       London, United Kingdom
5. London, United Kingdom
– 1
5.       Bali, Indonesia
6. Pattaya, Thailand
+ 1
6.       Hong Kong, China
7. Hong Kong, China
– 1
7.       Pattaya, Thailand
8. Kuala Lampur, Malaysia
+ 1
8.       Paris, France
9. Bali, Indonesia
– 4
9.       Kuala Lumpur, Malaysia
10. Kathmandu, Nepal
0
10.   Kathmandu, Nepal
11. New York City, United States
0
11.   New York City, United States
12. Istanbul, Turkey
+ 2
12.   Maldives, Maldives
13. Patong, Thailand
+ 3
13.   Barcelona, Spain
14. Rome, Italy
+ 1
14.   Istanbul, Turkey
15. Mauritius, Mauritius
+ 4
15.   Rome, Italy
16. Phuket, Thailand
+ 1
16.   Patong, Thailand
17. Barcelona, Spain
– 4
17.   Phuket, Thailand
18. Colombo, Sri Lanka
+ 2
18.   Langkawi, Malaysia
19. Amsterdam, Holland
New
19.   Mauritius, Mauritius
20. Las Vegas, United States
New
20.   Colombo, Sri Lanka