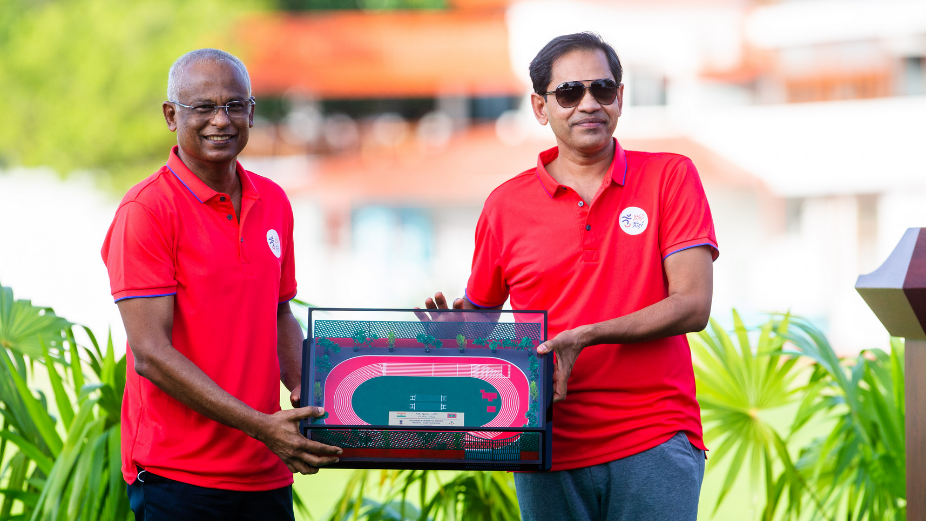 The Ekuveni Running Track, developed with Indian assistance under the 'High Impact Community Development' projects, has now been officially opened.
The project to upgrade the Ekuveni running track into a state-of-the-art synthetic nine-lane running track was initiated in mid-2020 to permanently address the shortcomings of the previous running track.
During the inauguration ceremony yesterday evening, President Ibrahim Mohamed Solih stated that his Government aims to facilitate young and aspiring athletes to reach their potential, and to fulfil all Maldivians' dreams in international sporting arenas and competitions. 
The President went on to highlight the importance of building more health-conscious people through sports and recreational activities. In this vein, he revealed that the Government would complete the project to upgrade the swimming track in Malé City early next month – a project that would address several challenges faced by those who use the swimming track.
Yesterday's ceremony was attended by the High Commissioner of India to the Maldives, Mr Sunjay Sudhir and senior government officials. Representatives from parties involved in the project, including senior officials from RKL Group, Housing Development Corporation (HDC), Road Development Corporation (RDC), Fenaka Corporation and Police Welfare Company (POLCO), were also in attendance.
The inauguration ceremony was also joined by members of the Athletics Association of Maldives and individuals from the public who work to promote sports and athletics.